Accommodation at the Łagiewniki Shrine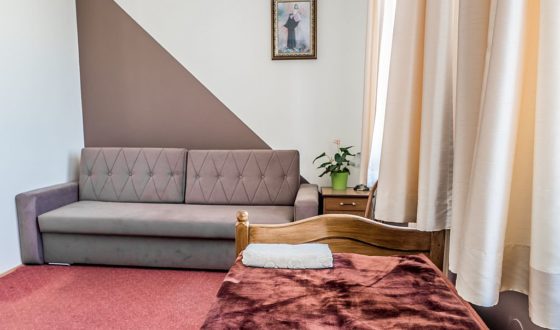 The renovated guest rooms in the House of St. Faustina at the Shrine of Divine Mercy in Krakow-Łagiewniki are available again. This possibility of accommodation in the place where St. Faustina once lived, worked, and experienced so many unusual encounters with Jesus and the Blessed Mother, creates an additional atmosphere for prayer and reflection.
At the reception, there is also a reconstructed cell of St. Faustina with unique items, owned or used by the Saint. Visitors can get acquainted with the history of the place and the message of Divine Mercy, using the audio recordings available there. At the gift shop, you can buy a copy of the Diary and memorabilia associated with the Shrine.
The Congregation of the Sisters of Our Lady of Mercy offers accommodation in this unique place to all those who want to stay longer at the Łagiewniki Shrine to pray and recollect, and experience an encounter with Merciful Jesus and St. Faustina. Both groups and individual pilgrims are accepted. Booking is available at noclegi@faustyna.pl, Tel. no.: +48 730 955 521 or in person at the reception. For more information please visit www.sanktuarium.faustyna.pl. See photos from the House of St. Faustina in the Gallery.