Faustinum formation meetings in Slovakia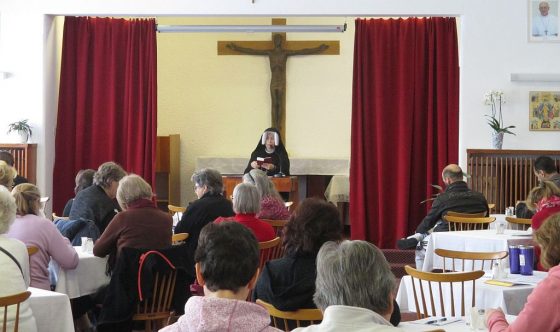 This September, Sisters from the Košice and Hrušov houses of the Sisters of Our Lady of Mercy will host formation meetings in several communities of volunteers and members of the Faustinum Divine Mercy Apostles' Association.
On September 20, a formation meeting in Košice, KVP, will be hosted by Fr. Jozef Kacvinský and Sr. M. Antoniana from the Košice community, and one in Sabinov by Fr. Martin Miškuf and Sr. M. Alžbeta.
On September 27 in Humenné, a meeting will be hosted by Fr. Jozef Kozak and Sr. M. Pavla from the Hrušov community of the Congregation of Our Lady of Mercy.
The formation program of the Faustinum association is based on the Gospel, the Church teaching and the spiritual experience of St. Faustina. It is designed for a systematic exploration of the mystery of God's mercy and its contemplation in everyday life, following the union with God through trust in Him and by fulfilling His will and acting out of mercy toward one's neighbors.