Following Sister Faustina's Revelations – Antoninek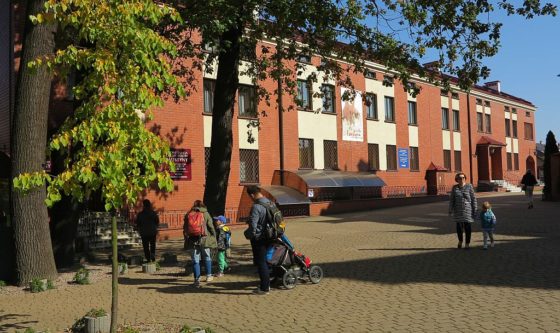 Following Sister Faustina at the Shrine of Divine Mercy in Krakow-Łagiewniki, we shall stop for a moment at the building which is presently adjacent to Siostry Faustyny street. The sisters traditionally refer to it as "Antoninek". The old, two-story building along with the lower gate has been demolished and replaced with a new one, which contains accommodation for pilgrims visiting and hosts the international "Faustinum" Association of Apostles of Divine Mercy.
Sister Faustina lived in "Antininek" on the second floor from September 1937 to March 1938. From January 1938, she was already very sick, so she spent most of the time in her cell. During that time, she recorded more than 50 extraordinary graces she received. These were mainly her encounters with Jesus (41) and they concerned the mission of proclaiming the message of Mercy, spiritual life and strengthened her in the fight against Satan. It was there that Sister Faustina recorded these famous words of Jesus: In the Old Covenant I sent prophets wielding thunderbolts to My people. Today I am sending you with My mercy to the people of the whole world (Diary, 1588). Also here, she heard some promises concerning the Chaplet of Divine Mercy, spreading the Divine Mercy devotion and the Hour of Mercy.
I remind you, My daughter, that as often as you hear the clock strike the third hour, immerse yourself completely in My mercy, adoring and glorifying it; invoke its omnipotence for the whole world, and particularly for poor sinners; for at that moment mercy was opened wide for every soul. In this hour you can obtain everything for yourself and for others for the asking; it was the hour of grace for the whole world-mercy triumphed over justice. My daughter, try your best to make the Stations of the Cross in this hour, provided that your duties permit it; and if you are not able to make the Stations of the Cross, then at least step into the chapel for a moment and adore, in the Blessed Sacrament, My Heart, which is full of mercy; and should you be unable to step into the chapel, immerse yourself in prayer there where you happen to be, if only for a very brief instant. I claim veneration for My mercy from every creature, but above all from you, since it is to you that I have given the most profound understanding of this mystery (Diary, 1572).
Here, she also experienced a very poignant encounter with the Mother of God, which she thus described: A vision of the Mother of God. In the midst of a great brilliance, I saw the Mother of God clothed in a white gown, girt about with a golden cincture; and there were tiny stars, also of gold, over the whole garment, and chevron-shaped sleeves lined with gold. Her cloak was sky-blue, lightly thrown over the shoulders. A transparent veil was delicately drawn over her head, while her flowing hair was set off beautifully by a golden crown which terminated in little crosses. On Her left arm She held the Child Jesus. A Blessed Mother of this type I had not yet seen. Then She looked at me kindly and said: I am the Mother of God of Priests. At that, She lowered Jesus from Her arm to the ground, raised Her right hand heavenward and said: O God, bless Poland, bless priests. Then She addressed me once again: Tell the priests what you have seen (Diary, 1585).