Following Sister Faustina's Revelations – the Gate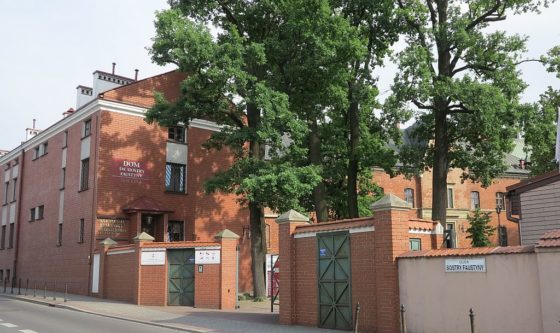 During the pilgrimage season, many people visit the Shrine of Divine Mercy in Krakow-Łagiewniki. The pilgrims pray at the grace-famous image of Merciful Jesus and the tomb of St. Faustina. They participate in the holy sacraments, they see the museum with the original memorabilia of the Apostle of Divine Mercy and experience the loving presence of God. The fruitful experiencing of the pilgrimage is aided by the sisters proclaiming the message of Mercy and the guidebooks, especially Sanktuarium Bożego Miłosierdzia w Krakowie-Łagiewnikach. Pielgrzymowanie ze św. Siostrą Faustyną and Śladami objawień św. Siostry Faustyny. The Łagiewnickie Shrine has been a witness to more than 280 extraordinary experiences recorded by Sister Faustina in her Diary and the miracles experienced here by pilgrims. Practically every spot here, starting from the gate and ending with the church bear traces of these unusual encounters.
We begin presentation of these spots from the entrance to the Shrine: the gate that leads to the convent's yard. The gate was formerly closed, as the entire convent was closed to the public. When St. Faustina was a portress, Cherubim would guard this gate. In the Fall of 1937, Jesus knocked on it, in the form of a poor young man. This event was described in the Diary: "Jesus came to the main entrance today, under the guise of a poor young man. This young man, emaciated, barefoot and bareheaded, and with his clothes in tatters, was frozen because the day was cold and rainy. He asked for something hot to eat. So I went to the kitchen, but found nothing there for the poor. But, after searching around for some time, I succeeded in finding some soup, which I reheated and into which I crumbled some bread, and I gave it to the poor young man, who ate it. As I was taking the bowl from him, he gave me to know that He was the Lord of heaven and earth. When I saw Him as He was, He vanished from my sight. When I went back in and reflected on what had happened at the gate, I heard these words in my soul: My daughter, the blessings of the poor who bless Me as they leave this gate have reached My ears. And your compassion, within the bounds of obedience, has pleased Me, and this is why I came down from My throne-to taste the fruits of your mercy" (Diary, 1312).