In the Footsteps of St. Faustina in Łagiewniki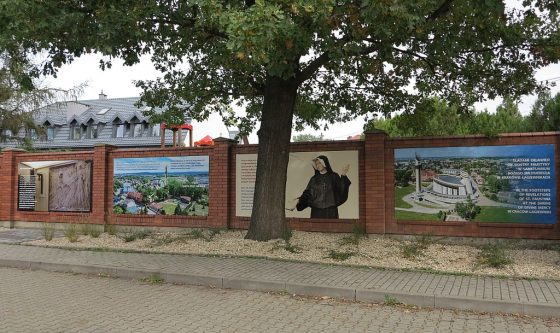 This is a translation of the Polish title of a book by Sister Elżbieta Siepak from the convent of the Congregation of the Sisters of Our Lady of Mercy at the Łagiewniki Shrine, which was published several years ago by the Misericordia publishing company. Now an exhibition has been set up on the wall separating the Shrine from the parking lot at ul. Motarskiego. Twenty six large posters are showing citations from the Diary of St. Faustina describing events and also revealing their exact locations within the Shrine. The exhibition includes Polish and English descriptions and the drone images were selected so that they show the general location as well as their details.
Sister Faustina had more than 280 various mystical experiences while staying at the Shrine of Divine Mercy in Krakow-Łagiewniki, which she recorded in her Diary. Each of these sites witnessed her encounters with heavenly dwellers, her conversations with Jesus, the Holy Mother, angels or souls in Purgatory.