Let's build together! Shrine in Płock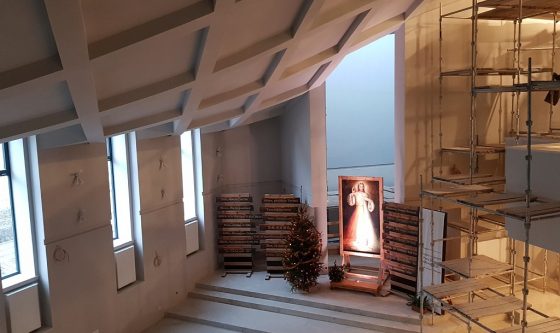 The past year brought further progress in the development of the Shrine of Divine Mercy in Plock. In 2022, plastering was completed, as well as concrete flooring and an elevator was installed in the Pilgrim House. Stonework for interior window sills made of white marble has also been completed; exterior window sills made of granite have also been installed. Tiling work has begun in the church and Pilgrim House, as well as stonework for the foundations of the facilities under construction. In the course of the construction work, installations continued in parallel: implementation of the "access control", installation of electrical fixtures, and the installation of radiators.
Finishing work is currently underway: architectural plaster in the nave of the church, filling, painting, tiling work in the bathrooms, in addition to stone work. Electrical work is also continuing with the necessary installations.
The Shrine of the Divine Mercy in Płock is being erected by the Congregation of the Sisters of Our Lady of Mercy thanks to the donations made for this purpose by devotees of Divine Mercy and people of good will. Sisters thank you for every gift of heart that makes the place of the first revelation of Merciful Jesus to St. Faustina come to life and ask you for further support. The Sisters pray together with the faithful at the Hour of Mercy and with the words of the Chaplet of Divine Mercy for all those who spiritually and materially support the construction of the Shrine, and every 22nd of the month a Mass is celebrated for all benefactors.
Donations for the expansion of the Shrine of Divine Mercy in Płock can be deposited into the account:
Zgromadzenie Sióstr Matki Bożej Miłosierdzia
Stary Rynek 14/18
09-404 Płock
Bank PEKAO SA
I O w Płocku
ul. Kolegialna 14a
SWIFT CODE: PKOPPLPW
PLN IBAN: PL 72 1240 3174 1111 0000 2890 0836
USD IBAN: PL 56 1240 3174 1787 0010 1057 7746
EUR IBAN: PL 28 1240 3174 1978 0010 1057 7818