Online Hour of Mercy and Chaplet in English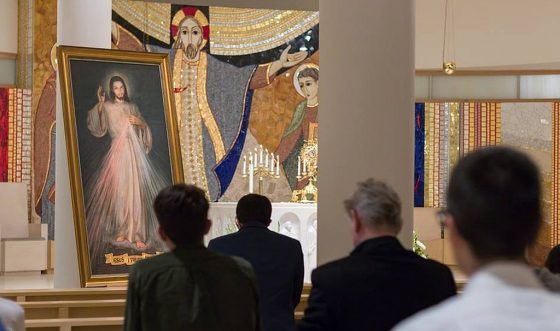 Every day at 3 pm Eastern Time, Sisters of the Washington community of the Congregation of Our Lady of Mercy lead prayer at the Hour of Mercy and Chaplet of Divine Mercy in English. The prayer is broadcast live from the John Paul II National Shrine in Washington, D.C. The short prayer aimed at contemplating the Mercy of God revealed in the Passion of Jesus, and then the Chaplet of Divine Mercy are available at the Shrine's YouTube channel:
https://www.youtube.com/channel/UCFTeh0aaqAA3-nAYAI7K6zA and Facebook page:
https://www.facebook.com/JP2Shrine/?hc_ref=ARQlMmu9QaQW35VsRG1VafZ-uooOjV-lQxuhvvuGpxIrd3X1oLDaB4fuLHa0JurMBXE&fref=nf
Both the Chaplet and the prayer at the Hour of Mercy are privileged forms of Divine Mercy veneration which Jesus Himself provided to St. Faustina and with which He associated great promises, under the conditions of practicing the attitude of trust in God, that is, fulfilling His will and acting out of mercy toward our neighbors.
Find out more about the Chaplet and prayer at the Hour of Mercy