Meeting with Refugees in the Shrine in Płock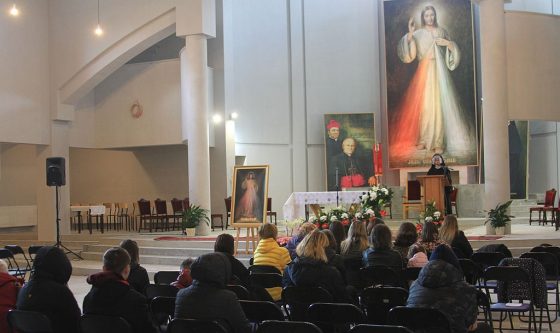 This Saturday, July 9th, from 12 p.m. to 14 p.m., the Shrine of Divine Mercy in Płock at the Old Market Square will host another meeting with refugees from Ukraine. The event will be delivered by Sr. Leonia from the Congregation of Our Lady of Mercy, who served for many years in  in Ukraine's Tavriisk, and the Sisters from the Płock convent. The main theme of the meeting will be to talk about the merciful love of Jesus, to pray the Chaplet of Divine Mercy and to praise God with singing. The program also includes a discussion and a shared Agape.
The Congregation of the Sisters of Our Lady of Mercy has received over 200 refugees from Ukraine, and over 30 children are attending the Congregation's kindergarten in Derdy near Warsaw. The Sisters from the Łagiewniki Shrine served in the "Mercy" tent on the Polish-Ukrainian border in Hrebenne. Since the beginning of the war in Ukraine, we have constantly prayed for justice and peace in this country, joined by online users from many countries of the world as part of the Perpetual Chaplet at www.faustyna.pl and its 7 language versions.