Preparation for the Anniversary of entrusting the world to the Mercy of God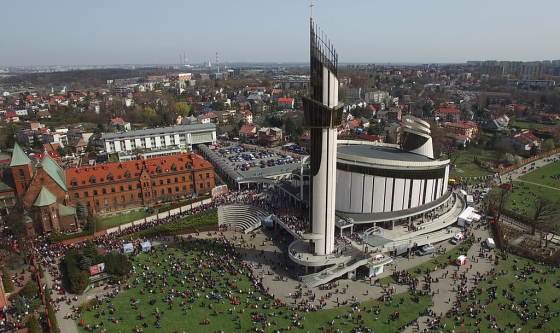 Next year we will celebrate the 20th anniversary of the act of entrusting the world to Divine Mercy. It was one of the most important events of the pontificate of John Paul II, which took place on August 17, 2002, during the consecration of the basilica at the Shrine of Divine Mercy in Krakow-Łagiewniki. During this year's nationwide pilgrimage of venerators of Divine Mercy, which always takes place on the Sunday following the anniversary of the Basilica's consecration, preparations will begin for the 20th anniversary of entrusting the world to Divine Mercy. We would like to invite Shrines of Divine Mercy in Poland and worldwide, parishes dedicated to Divine Mercy and all those who would like to learn more about the content of the papal act of entrustment, to join in this work.
Over a dozen shrines and sites of worship of Divine Mercy have already responded to our proposal, among others from Australia, Brazil, Mexico, Tanzania, France and many other countries, says Fr. Zbigniew Bielas, Rector of the Shrine of Divine Mercy in Krakow-Łagiewniki. Over the next 11 months we will meditate on the different parts of the Act of Entrustment of the World to Divine Mercy to discover the richness of this wonderful prayer. In the Basilica of Divine Mercy, at every Holy Mass and every day after praying the Hour of Mercy and the Chaplet, we recite the Papal Act of Entrustment. Now we want to bring it back to the attention of the whole world. Texts for consideration will be emailed to those interested.
This preparation is inspired by the words spoken by John Paul II at the end of his homily during the Mass during which he consecrated the Divine Mercy Basilica: How greatly today's world needs God's mercy. On all continents, from the depths of human suffering, a cry for mercy seems to rise … Today, therefore, in this Shrine, I want to make a solemn act of entrusting the world to God's mercy. I do this with a fervent desire that the message of God's merciful love, which was proclaimed here through Sister Faustina, may reach all the inhabitants of the Earth and fill their hearts with hope. May this message be spread from here to our beloved homeland and throughout the world.
Shrines and parishes that would like to receive materials for prayerful preparation for this event please email us at: info@milosierdzie.pl.