"Unknown Artist from Przemyśl" Now Known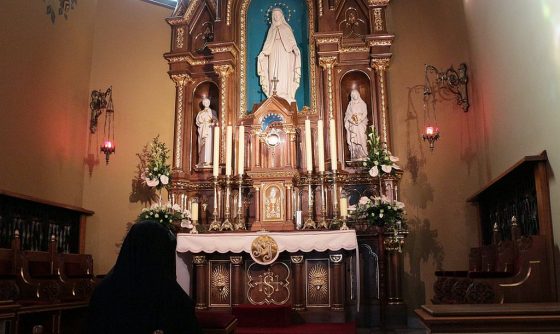 Until recently, all the publications concerning the Shrine of Divine Mercy in Krakow-Łagiewniki, the Image of Divine Mercy and the tomb of St. Faustina features a mention of an "unknown artist from Przemyśl", who designed and crafted the main altar. Recently in the collection of the Dąbrowski family from Żołynia sketches and a design of the altar were found, the author of which – as it turns out – was Ferdynand Majerski and his son Stanisław.
The main altar of the Łagiewniki Shrine is constructed in the Neo-Gothic style, with pinnacles and three semicircular niches. The central one holds a figure of Our Lady of Mercy, the main Patroness of the Congregation of the Sisters of Our Lady of Mercy, against a blue background with stars. On the left, a statue of Stanislaus Kostka, the patron saint of students has been placed, due to the fact that the convent maintains a novitiate. On the right, you can see a statue of Mary Magdalene, the patroness of moral transformation and the apostolic work that the Sisters are involved in. The altar is beautifully designed and crafted with thoughtfully symbolic tabernacle and mensa, and the rich gilding and ornamentation.
The altar can be viewed daily in an online broadcast at www.faustyna.pl in all 7 language versions, in the Faustyna.pl mobile application, and during the television broadcasting at the Hour of Mercy and Chaplet on TVP3 (3 pm-3.20 pm).
It is extraordinary that after so many years the historical riddle has been solved thanks to the research conducted by Cardinal Stefan Wyszyński University in Warsaw, and its initiator Magdalena Kątnik Kowalska, director of the Communal Cultural Center in Żołynia and co-owner of the Dąbrowski house.