Chaplet of Divine Mercy – apostolic works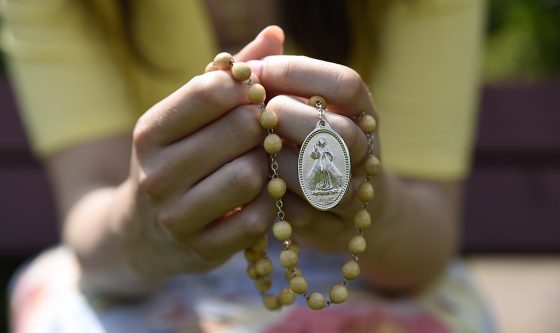 The Chaplet of Divine Mercy is a special gift from God for our times, because it was dictated by Jesus Himself and has great promises attached to its trustful recitation. It is now the best known and widely practiced prayer to Divine Mercy. Its words are recited not only by Roman Catholics, but also by Greek Catholics, Maronites, Orthodox Christians, Protestants, Anglicans and people of other faiths, who experience its extraordinary effectiveness in obtaining graces and temporal benefits.
As a result, various initiatives and works of mercy have sprung up around this prayer. The Congregation of the Sisters of Our Lady of Mercy maintains the Perpetual Chaplet and the Chaplet for the Dying projects, and produces television and radio broadcasts in Poland, Rome and Slovakia.
At the Shrine of Divine Mercy, this prayer is recited every day by the Sisters and pilgrims. Communion is always practiced after a short prayer at the Hour of Mercy (3 pm). This service (Hour of Mercy and Chaplet) is broadcast by several TV stations, including TVP 3 national, TVP Vilnius, 12 radio stations, online at www.faustyna.pl in 8 languages, in our mobile Faustyna.pl app and our YouTube channel of the same name.  Thanks to this connectivity, every day and at the same time, more than a million people are crying out to God with one voice, asking for His mercy for us and the whole world, and for the necessary graces for the Holy Church, our homeland, Europe and the world.