Convent of the Sisters of Our Lady of Mercy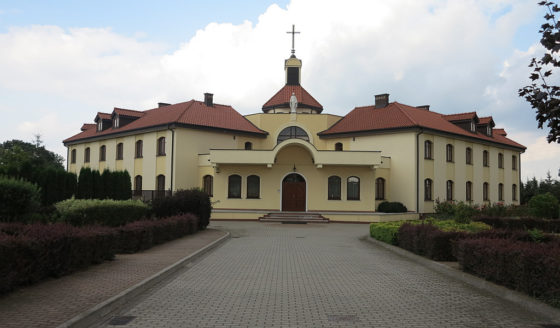 On 25 August 2001, in response to the invitation of Bishop Bronisław Dembowski, Ordinary of the Diocese of Włocławek, the Congregation agreed to exercise its ministry in the home parish of St. Sister Faustina in Świnice Warckie. Initially, four sisters moved to the parish house at 11 Kościuszko Street and began the charismatic mission of preaching the message of the Divine Mercy by deed, word and prayer. In the decree establishing the Shrine of the Birth and Baptism of St. Faustina in the parish church of Świnice Warckie (25 September 2002) the Bishop of Włocławek entrusted the care of the Shrine "to the parish priest and to the Sisters of the Congregation of Our Lady of Mercy, in which St. Faustina devoted to God her life, conceived in that place. Let the message of God's merciful love" – he wrote – "spread from this place, proclaimed to the world through her agency and let the plea for mercy for us and for the whole world continue for ever."
The idea of erecting a contemplative convent in Świnice Warckie had been constantly in mind ever since the ministry of the Congregation began there. Its construction was undertaken as a votive offering of the Congregation on the 100th anniversary of St. Sister Faustina's birth. The Włocławek Diocese gave the Congregation a portion of the parish land in Chopin Street, where construction began according to the design of the architect Edward Warcaba from Zakopane. On 8 December 2005, on the Solemnity of the Immaculate Conception of the Blessed Virgin Mary, the sisters moved to the new convent, and on ​​25 August 2006 Bishop Wieslaw Mering, the Ordinary of the Diocese of Włocławek, dedicated the convent along with a chapel.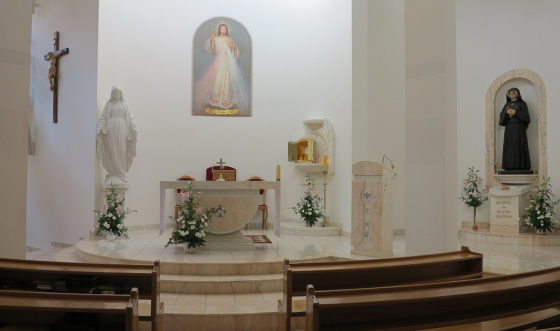 On 25 August 2008 by the decision of the General Council of the Congregation an enclosed part was opened in the convent of Świnice Warckie. This amounted to a fulfilment of the idea, of which St. Sister Faustina wrote in her "Diary", the idea of having an enclosed convent in the congregation. The decision to esta- blish a contemplative convent had already been taken in 1998 by the 14th General Chapter, and its Statute was approved by the 15th General Chapter of the Congregation in 2004. The Statute includes the following statements: "The primary objective of a contemplative convent in the Congregation of the Sisters of Our Lady of Mercy is the implementation of the Congregation's charism by means of prayer, that is by imploring mercy for the world … The secondary objective is the spiritual renewal of the sisters sent to carry out the charism of the congregation by word and deed. This objective is to be served by intellectual exploration and contemplation of the mystery of the Divine Mercy."
The active sisters from the community in Świnice Warckie carry out their ministry in the parish and the Shrine with numerous educational, pastoral, apostolic and charitable works. They implore God's mercy in the convent chapel and in the parish church, conduct religious education, proclaim the message of Divine Mercy to pilgrims who come here and also take care of the family house of St. Sister Faustina in Głogowiec.
sr. M. Elisabeth Siepak ISMM
Translated by Orest Pawlak
Shrines/Shrine of the Birth and Baptism of St. Faustina in Swinice Warckie