Divine Mercy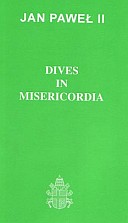 John Paul II
Dives in Misericordia 
The Encyclical of the Holy Father on God's Mercy  
The Encyclical Dives in Misericordia is the first papal document in the history of the Church devoted entirely to the mystery of God's mercy and the realization of the mission of mercy in the Church. The Holy Father John Paul II shows the merciful love of God in the whole history of salvation, based on biblical texts, as well as newly urging the Church to proclaim this most beautiful truth of the faith, to make it present in works of mercy, and to call for the mercy of God for the whole world against various forms of evil. "The Church of our time – John Paul II wrote – must become more particularly and profoundly conscious of the need to bear witness in her whole mission to God's mercy, … professing it in the first place as a salvific truth of faith and as necessary for a life in harmony with faith, and then seeking to introduce it and to make it incarnate in the lives … Finally, the Church-professing mercy and remaining always faithful to it-has the right and the duty to call upon the mercy of God, imploring it in the face of all the manifestations of physical and moral evil, before all the threats that cloud the whole horizon of the life of humanity today" (DM 12).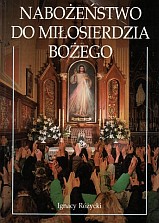 Father Ignacy Różycki
Devotion to the Divine Mercy
Marian Press in Stockbridge (USA)
Based on a theological analysis of the writings of St. Faustina, the author presents the essence of the devotion to The Divine Mercy, its subject matter and uniqueness and new forms of religious worship. Father Różycki examines with great precision revelations related to this devotion and provides a synthesis of the practice of each worship form. Professor Różycki, a great dogmatist, under direct obedience to Cardinal Karol Wojtyła, worked on the theological analysis of the writings of St. Faustina. The book "Devotion to The Divine Mercy" is part of the documents prepared in the process of beatification and canonization of Sister Faustina. This work, in which the author solved difficult problems of theology such as those referring to the Feast of The Divine Mercy, received a very positive assessment from Vatican theologians and constitutes a fundamental interpretation of the practice of the devotion to The Divine Mercy in the forms given by St. Faustina.