Expansion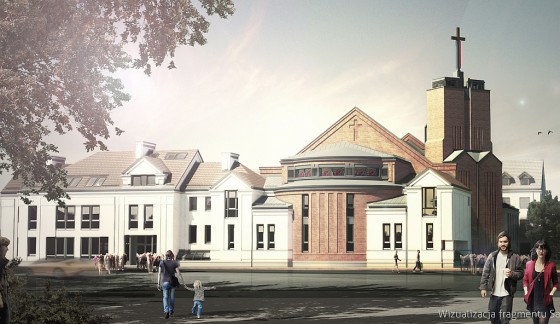 Why Jesus chose Płock as the place of the first revelation related to the message of Mercy will probably always remain a mystery. It is God, to whom the whole world belongs, who chooses the time and place where people experience His special presence and grace. While the question as to why the convent in Płock became such a special place remains unanswered, the dynamic development of The Divine Mercy devotion and pilgrimage movement is undeniable and leaves the Congregation facing the task of rebuilding and expanding the shrine. The most important element of this expansion, a part of the new church, will be the chapel of the Adoration of the Blessed Sacrament, situated in the place where Jesus appeared several times to Sister Faustina. The extension of Saint Sister Faustina museum is also planned, in the basement of the shrine. The development plans also include facilities for pilgrims and for the formation of the apostles of The Divine Mercy as well as a retreat centre. The Ordinary of the Diocese of Płock, Bishop Piotr Libera, blessed the cornerstone from Calvary ​​for the new church on 19 April 2009 (the Feast of The Divine Mercy).
Donations for the expansion can be paid into the following bank accounts:
Zgromadzenie Sióstr Matki Bożej Miłosierdzia
(Congregation of the Sisters of Our Lady of Mercy)
Stary Rynek 14 / 18
09 – 404 PŁOCK
Poland
BANK PEKAO S.A.
I O. Płock
ul. Kolegialna 14 a
SWIFT CODE: PKOPPLPW
PLN – IBAN: 72 1240 3174 1111 0000 2890 0836
USD – IBAN: 56 1240 3174 1787 0010 1057 7746
EUR – IBAN: 28 1240 3174 1978 0010 1057 7818
For all spiritual sacrifices and material donations the sisters say ​a heartfelt "God bless you" and pray for the intentions of all donors.