Feast of St. Faustina in Łagiewniki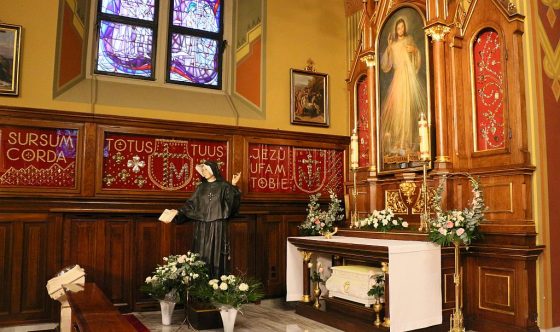 The liturgical feast of St. Faustina, October 5th, at the Shrine of Divine Mercy in the chapel with the miracle-famous image of Merciful Jesus and the tomb of St. Faustina, Holy Mass will be celebrated at 6.30 am, 5.00 pm and 7.00 pm. Prayer at the Hour of Mercy and the Chaplet of Divine Mercy will be recited at 3pm, as on all days. From 8.30 pm, Adoration of Jesus in the Blessed Sacrament will be led by Sisters from the Congregation of Our Lady of Mercy. The evening of grace and praise will end at 10.45 pm, i.e., at the hour when St. Faustina departed to the House of the Lord. In the Basilica, Holy Mass will be celebrated in the Sunday order, except for the 1.30 pm one.
On October 5, which is the anniversary of St. Faustina's birth in Heaven, the site where the Apostle of Divine Mercy left the earth to go to the Heavenly Father's house, will be opened to visitors. Usually, it is unavailable for pilgrims, because it is inside the religious cloister. Entering the Shrine, you can only see a plaque and the window of the old infirmary decorated with flowers. On October 5, however, the oratory, in which the relics of St. Faustina body are deposited, along with more than a hundred relics of other saints and blessed, will be made available to pilgrims from 10.00 am to 6 pm.