Fundraiser for camera to broadcast from Łagiewniki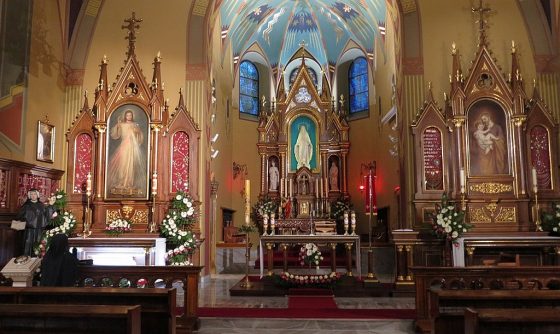 Recently, the longer breaks from the online broadcast from the Shrine of Divine Mercy in Krakow-Łagiewniki's Chapel of Merciful Jesus with the tomb of St. Faustina were caused by the need to repair the camera, which has been streaming the events from the chapel around the clock since 2015. Thus, there is a need to purchase a second camera, which would guarantee TV-like quality and continuity of broadcasting on the Faustyna.pl website, the Faustyna.pl YouTube channel and the mobile application with the same name. This live video broadcast is enjoyed annually by several million people around the world, as well as used by television and radio stations.
The Congregation of the Sisters of Our Lady of Mercy is therefore launching a fundraiser for this purpose, which can be deposited in the account provided with a note: Kamera – transmisja online.
Zgromadzenie Sióstr Matki Bożej Miłosierdzia
Dom Zakonny w Krakowie
ul. Siostry Faustyny 3
30-608 Kraków
Poland
Bank BGŻ BNP Paribas S. A.
ul. Kasprzaka 10/16
01-211 Warszawa
Poland
Bank account numbers::
80 1600 1013 0002 0012 3671 2001 – PLN
73 1600 1013 0002 0012 3671 2030 – EUR
41 1600 1013 0002 0012 3671 2024 – USD
BIC (Swift) Code: PPABPLPK
IBAN: PL
Please indicate the purpose: Kamera – transmisja online.