Image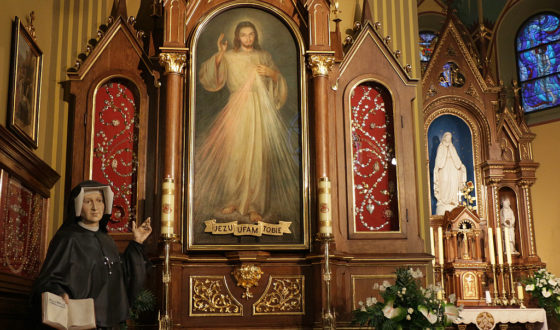 The first image of the Divine Mercy, according to the vision which Sister Faustina received, was painted under her supervision in the studio of Eugeniusz Kazimirowski in Vilnius in 1934. During the Second World War other images were painted, and among them the image by Adolf Hyła, painted with the co-operation of Father Józef Andrasz SJ, who was Sister Faustina's confessor in Kraków. Copies and reproductions of Adolf Hyła's second image of Merciful Jesus from the convent chapel of the Sisters of Our Lady of Mercy in Kraków-Łagiewniki, quickly spread throughout the world. Thus Jesus' words about this image were fulfilled: "I desire that this image be venerated, first in your chapel, and [then] throughout the world" (Diary 47).
In the early 1950s, there were more and more complaints from clergy, including bishops, about the introduction of the Divine Mercy image into churches. The image was spreading far and wide; however, as the process of raising Sister Faustina Kowalska to the altars had not yet been initiated, the image was coming from a source not investigated by the Church. Bishops also cited the instructions of the Holy See, which advised great caution when introducing new images. In this situation, in 1954 Father Michał Sopoćko, acting on the suggestion of the Polish Episcopal Conference, organized a competition for the painting of Jesus, presenting Him appearing to the Apostles at the Last Supper after his Resurrection and establishing the sacrament of penance. Three painters took part in the competition, and Ludomir Ślendziński was the winner. On 5 October 1954 the Polish Episcopal Conference accepted this painting for veneration. In spite of numerous attempts by Father Michał Sopoćko, Merciful Jesus' paintings by Ślendziński did not spread.
In 1959 a Notification appeared prohibiting the spread of devotion to Divine Mercy as given by Sister Faustina. The document left to the shepherds the decision as to whether Merciful Jesus images should be removed from churches. At that time many of these images were removed, but certain churches kept the paintings, and before them the faithful still prayed.
In 1978, following the cancellation of the Notification, images of the Divine Mercy came back into churches. Today there is probably no country without the image of Merciful Jesus painted according to St. Sister Faustina's vision. Today it is the best known image of Jesus Christ.