In the Teaching of John Paul II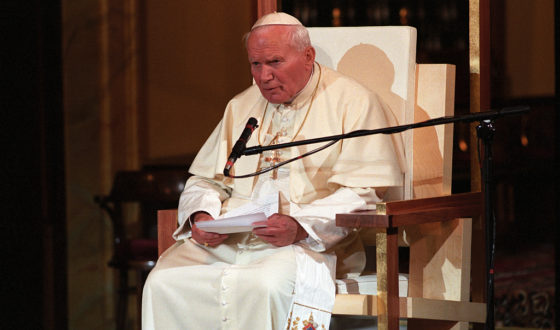 "The Message of Divine Mercy has always been near and dear to me. It is as if history had inscribed it in the tragic experience of the Second World War. In those difficult years it was a particular support and an inexhaustible source of hope, not only for the people of Krakow but for the entire nation. This was also my personal experience, which I took with me to the See of Peter and which in a sense forms the image of this Pontificate." – these words uttered by Pope John Paul II at the Shrine of Divine Mercy in Krakow-Łagiewniki are key to the understanding of his life, teaching and apostolic ministry. Inspired by the message of Divine Mercy, which God revealed through Sister Faustina, John Paul II wrote the Encyclical, Dives in Misericordia, the first in the history of the Church to be devoted to Divine Mercy; introduced the feast of Divine Mercy into the Liturgy of the Church on the first Sunday after Easter; and entrusted the whole world to Divine Mercy, so that humanity could find in It salvation and the light of hope.
Then followed particular events that became ideal occasions for showing to the world the message of Mercy – the truth of which is revealed in the pages of the Old and New Testaments.
These were : the beatification and canonization of Sister Faustina; pilgrimages to the Shrine of Divine Mercy in Krakow-Łagiewniki; the subsequent turn of the century with great threats in the new millennium; not forgetting this Pope's apostolic journeys and ordinary teaching, for example when offering the prayer Regina Caeli, Exploring the mystery of the merciful love of God for man led John Paul II to present evangelical models: trust in God and mercy toward our neighbour. John Paul II repeatedly called for Christians in our day to become apostles and witnesses of this truth of faith, because – as he stated – "There is nothing that man needs more than Divine Mercy – that love which is benevolent, which is compassionate, which raises man above his weakness to the infinite heights of the holiness of God." The date of his death became a sign for the Church and for the world, as it occurred on Saturday, 2 April 2005, the Eve of the Feast of Mercy, a Feast already celebrated in the Church's liturgy. It was as if, in this way too, the Holy Father had yet again pointed to what is most important for the Church and for the world. The road of hope passes through getting to know the mercy of God, entrusting everything to Him, and doing good to others.
"How greatly today's world needs the mercy of God!" – said John Paul II in Łagiewniki in 2002 – "In every continent, from the depth of human suffering, a cry for mercy seems to rise up. Where hatred and the thirst for revenge dominate, where war brings suffering and death to the innocent, there the grace of mercy is needed in order to settle human minds and hearts and to bring about peace. Wherever respect for life and human dignity are lacking, there is need of God's merciful love, in whose light we see the inexpressible value of every human being. Mercy is needed in order to ensure that every injustice in the world will come to an end in the splendour of truth. (…) In the mercy of God the world will find peace and mankind will find happiness!"