Let's build together! Shrine in Plock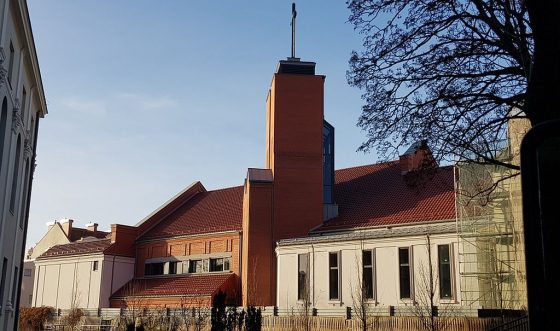 In 2020, despite the pandemic we did not stop work the construction of the Shrine of Divine Mercy in Płock. In the first months of last year, the tower was completed with the roofing and fitting of external woodworking. The roofs of existing houses have been joined to the newly built church. Also work on the facade of the church and the pilgrims' house have been completed. In addition, work has begun on the electrical and sanitary installations, plastering, and flooring inside.
In 2021, it is planned to continue sanitary and electrical installations, to continue plastering and flooring, and to make stone cladding, outside stairs and window sills. It is also planned to start works related to land development (parking lot, pavements, small architecture), of course, as far as the finances allow it.
The Shrine of the Divine Mercy in Plock is being erected by the Congregation of the Sisters of Our Lady of Mercy thanks to the donations made for this purpose by devotees of Divine Mercy and people of good will. Sisters thank you for every gift of heart that makes the place of the first revelation of Merciful Jesus to St. Faustina. Thanks to these gifts, the church is growing and therefore the sisters would like to ask for further support. Holy Mass is celebrated on the 22nd day of each month and the Sisters pray daily together with the faithful at the Hour of Mercy and with the Chaplet of Divine Mercy in the intention of everyone who support the construction of the Shrine spiritually and physically.
Donations for the expansion of the Shrine of Divine Mercy in Płock can be deposited into the account:
Zgromadzenie Sióstr Matki Bożej Miłosierdzia
Stary Rynek 14/18
09-404 Płock
Bank PEKAO SA
I O w Płocku
ul. Kolegialna 14a
SWIFT CODE: PKOPPLPW
PLN IBAN: 72 1240 3174 1111 0000 2890 0836
USD IBAN: 56 1240 3174 1787 0010 1057 7746
EUR IBAN: 28 1240 3174 1978 0010 1057 7818