Live broadcasts from Łagiewniki Shrine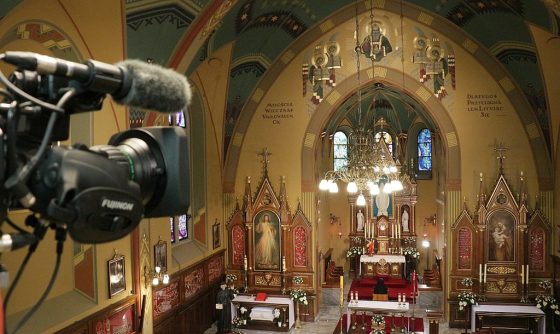 From the heart of the Shrine of Divine Mercy in Krakow-Łagiewniki, that is, the chapel of the grace-famous Divine Mercy image and the tomb of St. Faustina, TVP3 television channel has broadcast Mass on Fridays since 1993 and for more than twenty years TVP 1 has additionally broadcast Sunday Mass.
Every day for the past three years, the Hour of Mercy prayer and the Chaplet of Divine Mercy led by the Sisters of the Congregation of Our Lady of Mercy have been broadcast nationwide on TVP 3. Around-the-clock online video stream of the chapel is available at www.faustyna.pl and the 7 subsites in different languages, as well as at the Faustyna.pl YouTube channel and the Faustyna.pl mobile app, which offers 6 different languages for the users. It had nearly 1,800,000 unique users in 2022 alone. As many users or more have viewed the YouTube channel.
Television stations (including Shalom TV) and radio stations also retransmit our online broadcasts. The morning Mass is broadcast by Doxa radio, while the prayer at the Hour of Mercy and the Divine Mercy Chaplet are broadcast by more than a dozen radio and television stations. Thanks to these radio, television and Internet broadcasts, millions of people may cry out to God every day or week at the same time with one voice: "Please have mercy on us and the whole world".