Mass Media
"The Congregation's apostolate consists first of all in the witness of the consecrated life, which according to the foundresses' intention is expressed by trust in the mercy of God, by prayer and penance and also by the ministry of deeds of mercy" (Constitutions, Art. 77).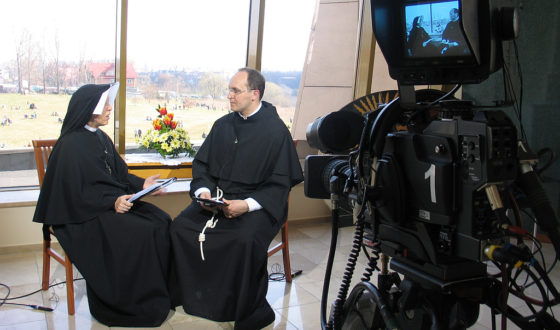 All efforts in this important new field of the apostolate should be encouraged, so that the Gospel of Christ may be proclaimed also through these modern means. The various Institutes should be ready to cooperate, by contributing resources and personnel, in order to implement joint projects in all sectors of social communications.
John Paul II, Vita Consecrata, 99
The Message of Mercy, which Christ gave through St. Faustina, requires the Congregation to be wide open to cooperation with the media. The sisters share the gift of the Message of Mercy in the media in various ways: through interviews, press releases, participation in films, radio and television programmes devoted to prayer to The Divine Mercy and to the life and mission of St. Faustina. Every Friday since 2004, TV Puls has transmitted the prayers at the Hour of Mercy from the Shrine in Kraków-Łagiewniki; also the Chaplet of The Divine Mercy, interviews about God and human mercy and about the life and mission of St. Sister Faustina. Other convents of the Congregation, in Poland and elsewhere, also co-operate with the media.
The quarterly "Orędzie Miłosierdzia" (Message of Mercy) has been published since 1987 in the Shrine in Kraków-Łagiewniki. It is entirely devoted to the mystery of Divine and human mercy, and to the life and mission of St. Sister Faustina.
sr. M. Elisabeth Siepak ISMM
Translated by Orest Pawlak