On the feast of St. Faustina in Płock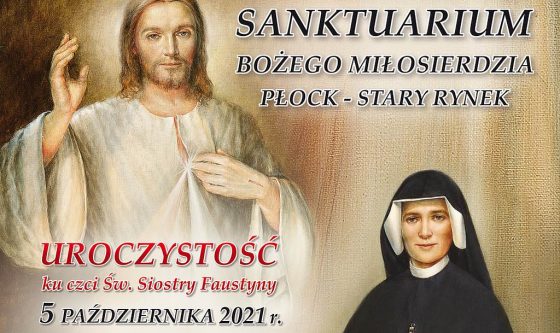 On the feast of St. Faustina in Płock, on October 5th, a solemn service will be celebrated in the Shrine of Divine Mercy at the Old Market. Holy Mass will take place on that day at the following times: 6.30 am, 12 pm and solemn summa at 5 pm, celebrated by Bp. Roman Marcinkowski.  It will be preceded by Rosary at 4.15 pm. After the evening Mass, there will be Adoration of Jesus in the Blessed Sacrament until 9 pm. At 3 pm, as on every day, the Hour of Mercy and Chaplet of Divine Mercy will be recited. On that day, after each Mass and after praying at the Hour of Mercy, visitors will traditionally be able to purchase, for a voluntary offering, St. Faustina's buns, baked by the Sisters. The income from the sale of the buns goes entirely to the construction of the new church. On that day, you will be able to see the old bakery oven from the times when St. Faustina was staying in Płock, along with other memorabilia, items which were silent witnesses of her life.
Before the feast of St. Faustina, a triduum of Holy Masses will be celebrated from October 2nd to 4th at  5 pm. The main celebrant will be Fr. Andrzej Pieńdyk, the vice-Rector of the Theological Seminary in Płock.