Renewal of the Woman's Heart in Łagiewniki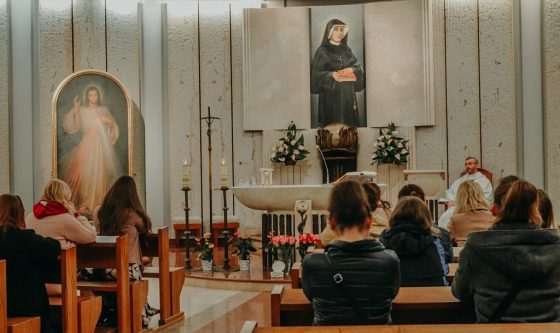 The "Garden of Mary" Community, operating at the Divine Mercy Shrine in Krakow-Łagiewniki, would like to invite women to a 9-month women's hearts renewal experience titled, Pneumatophora. The invitation is for any woman who seeks deep formation and wants to revive her relationship with Jesus. The topic of this year's conferences is Bride of the Risen One. The meetings are open, require no prior sign-ups, and are held every third Tuesday of the month at the Chapel of St. Faustina (lower part of the basilica).
Meeting agenda on October 17:
6 pm – Holy Mass with sermon, presided over by Fr. Dr. Mirosław Smyrak.
7 pm – worship led by the Garden of Mary team or Michał Niemiec.
8 pm – conference in the "Faustinum" room (in the complex of monastery facilities).
8:30 pm – group discussions.
9 pm – self-entrustment to Mary, the Jasna Góra Appeal prayer.