The Attitude of Trust in God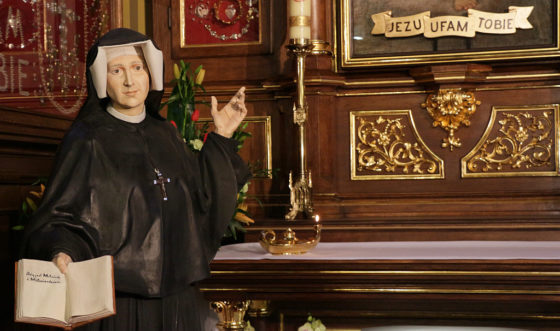 The word trust in the school of St. Faustina's spirituality signifies the attitude of man towards God. In the signature of the image, which Jesus ordered her to paint, are the words: Jesus, I trust in You! Trust is the first response of man to knowing and experiencing the attentive merciful love of God. This word has unusually rich contents because it signifies not only faith in the existence of God, in His omnipotence, in the truths revealed through Him, but it also denotes an all-embracing attitude of man towards God, which expresses the fulfillment of God's will contained in the commandments, in the duties of our state of life, as well as in the recognised inspirations of the Holy Spirit. In the writings of Sister Faustina, trust is identical with the biblical conception of faith and so it means entrustment of own life to God as the best Father who does not desire anything other than man's temporal and eternal happiness. God's will – as Sister Faustina often used to say – is for us mercy itself. It is the fulfillment of God's will that is a concrete measure of trust towards God. The Lord Jesus said to Sister Faustina, "The graces from My mercy are drawn by one vessel, and that vessel is trustfulness. The more trustful a soul is, the more it will receive. Souls that have boundless trust are a great comfort to Me, for into such souls I pour all the treasures of My graces. I am pleased when they ask for much, for I want to bestow much, and even very much. But I am saddened when souls ask for little, when they tighten and close up their hearts" (Diary 1578).
The attitude of trust has a dynamic character and in Sister Faustina's life it yielded continuous growth until her complete entrustment to God in all dimensions of life. In order to develop the attitude of trust, Sister Faustina made use of very simple means, ordinary and accessible to everyone, such us: development of faith, hope, love, humility, and contrition – virtues conditioning the attitude of trust, but also the practise of daily fulfillment of God's will even in very small things. But the point is that she used them consistently, and this often required great fortitude of spirit, radicalism, and tenacity in fighting with her spoiled nature – as she would put it. Building up the attitude of trust demanded her continuous conversion. She had to overcome herself, not only as regards her weaknesses, but also as regards her natural capacities; e.g., the logic of reason. Because, oftentimes, God would place her precisely in such situations where she had to deny her reason, suspend the logic of human thinking so as to trust Him, and consequently, to accept and carry out His will. The Lord Jesus highly valued Sister Faustina's efforts to develop the attitude of trust, saying: "You have great and infinite rights to My Heart, for you are an absolutely trusting daughter"  (Diary 718).
In everyday language the words: I trust mean as much as: I fully believe the other person, I entrust my life to him – my present and my future; I know that I can count on this person; I am sure of his disinterested love and help in the event I might need it. Such an understanding of trust is close to the biblical concept of faith, or entrustment, which is man's response to God's gift: the revelation of His merciful love. Likewise, we find this concept of trust in Sister Faustina's writings.
Trust, for Sister Faustina, is then not a single virtue that proceeds from hope or is identical to it; rather, it is an attitude embracing all the dimensions and relations that might exist between man and God. Father I. Różycki writes that such an attitude of life on the part of man toward God is what "the Lord Jesus called faith, and that He expected it of His followers, saying, «If you have faith the size of a mustard seed, you will say to this mountain: 'Move from her to there,' and it will move. Nothing will be impossible for you»" (Mt 17:20). It is, therefore, a question of assuming the attitude of total entrustment to God, which allows us to move mountains. This very attitude of life – writes Fr. I. Różycki – is what St. Paul, and with him all of Christian theology, calls hope, which develops from our "living faith in God's goodness and infinite love for us. It is inseparably connected with humility, namely, with the sincere and deep conviction that all the good within us and all the good we do is the work and gift of God, that we do not possess anything that we have not received from God. This trust – hope is the opening of the soul to receive the grace of God and it is a cry for this grace."
In her life, trust is not only one virtue; it is an all–inclusive attitude, characterising man's relationship with God and encompassing "a great variety of virtues and Christian moral attitudes. In Sister Faustina's life – writes Archbp. S. Nowak – to trust is not only to entrust oneself to God. It is entrusting oneself to God with childlike intimacy". Thus, it is a complete self–surrender in love. Trust, then, does not only express an attitude flowing from faith and hope; it also implies a special bond of love and of communion of life with Jesus. The attitude of trust in Sister Faustina's life and writings, therefore, consists of the theological and moral virtues that determine one's childlike, boundless self–surrender to God: faith, hope, love, humility, and contrition.
Trust in writings of Sister Faustina is not an abstract attitude consisting, for instance, in the intellectual acceptance of the revealed truths of faith or in pious feelings. Trust is a very concrete attitude, because it is tested and clearly proven true in the fulfillment of God's will. If a person truly trusts in God, he will know that He speaks the truth; that He desires nothing but man's temporal and eternal good; that His will is a gift of His mercy. And this is why he carries out God's will, regardless of whether it agrees with his feelings and the logic of his reason or not. For to those who trust – as Sister Faustina would often say – the Will of God is mercy itself. "There is but one word that I always heed – she noted in the Diary – one word which I always consider, that one thing is all to me, by it I live, with it I die, and that thing is the holy will of God. It is my daily nourishment; my entire soul hearkens unto what God wants; I always do whatever God wants of me, even though often my nature trembles, sensing that it far surpasses my powers. I know very well what I am of myself; but I also know what the grace of God is, which is holding me up"  (Diary 652). The proof and evidence of trust, then, is the fulfillment of God's will.
The fulfillment of God's will is the measure of perfection in the attitude of trust. Sister Faustina mentions here three degrees: the 1st degree in the accomplishment of God's will pertains to external observance and consists in fulfilling everything that is embodied in the commandments, rules, and regulations; the 2nd degree consists in faithfulness to the inspirations imparted by the Holy Spirit; the 3rd degree is complete abandonment to the will of God (Diary 444). Similarly, the gradual development of the attitude of trust follows these three degrees. Because trust is not a static attitude, it is a dynamic one; and as such, it evolves and develops. It is a process that requires time and cooperation with God's grace.
The starting point for this development is the gift of faith, enabling us to come to know the mystery of Divine Mercy. "I often ask Jesus – Sister Faustina wrote in the Diary – for a mind enlightened by faith. These are the words I say to the Lord, "O Jesus, give me a mind, a great mind, only so that I may know You better, for the better I know You, the more I will love You" (Diary 1474). Thanks to faith, Sister Faustina came to know God ever more fully, especially His greatest attribute: mercy. The knowledge of the mystery of Divine Mercy is the basis of the attitude of trust, because no one can put his confidence in somebody or give himself entirely to a person he does not know. The more Sister Faustina penetrated the mystery of Divine Mercy, the more her trust in Him grew throughout her life. In the Diary she wrote, "I feel I am completely God's; I feel I am His child; I feel I am entirely His property. I am even sensing this physically and tangibly. I am absolutely confident about everything, for I know that it is up to my Bridegroom to take care of me. I have become completely oblivious of myself. My trust in His most merciful Heart is boundless" (Diary 244). She experienced the mystery of spiritual childhood profoundly, and this is why she wondered at how it is possible not to trust in such a God who can do everything, who is wisdom itself and who loves man with an infinite love.
In Sister Faustina's life, her constant practise of uniting herself with the Merciful Jesus dwelling in her heart, as well as the contemplation of the mystery of Divine Mercy in her everyday life, was of crucial importance in the development of the attitude of trust. However, the discovery of God's presence in her soul had to occur first. The Lord Jesus instructed her about His presence in the soul, and He wanted her to make the resolution of uniting herself with Him. The contemplation of God living in her soul, supported by the constant practise of uniting herself with Jesus through exclamatory prayers or any act of love expressed in various ways, contributed to the progress in her attitude of trust. For, behold, the One in whom she placed all her trust is close; He is so close and so intimately united with her, more so than would ever be possible in relations between people. And the One dwelling in her soul is the Creator, who sustains the whole world in existence. At the same time, He is the Saviour, of whom she could say together with St. Paul, "[He] has loved me and given himself up for me" (Gal 2:20).
The basis for forming and growing in the attitude of trust is the knowledge of the mystery of Divine Mercy and its contemplation in everyday life. In working on this attitude, Sister Faustina also used other means, such as prayer and the cultivation of an ascetic life. In short, she removed everything that prevented her from an ever more perfect union with God. She tried very hard to acquire the virtues – positive moral perfections – particularly those that determine the attitude of trust; namely, faith, hope, love, humility, and contrition. A very important means towards growth in this attitude was her faithful fulfillment of God's will throughout the day, since this is the manifestation of one's entrustment to God. Her personal meetings with Jesus during the examination of conscience were yet another way of developing the attitude of trust. Her trust was seriously tested in moments of suffering and in painful spiritual experiences. At those times she did not seek consolation from people, but she would go before the tabernacle and say, [Lord], "Even if You should kill me, I shall still trust in You" (Diary 77). When my soul is in anguish, she declared in another passage, I think in this way only: Jesus is good and full of mercy, and even if the ground were to give way under my feet, I would not cease to trust in Him (Diary 1192).
Trust – as seen in Sister Faustina's life – is an essential element in the interior life, the foundation in striving for union with God. Sister Faustina learned from the Lord Jesus that trust is the only vessel with which to draw graces (Diary 1578); it is a source of peace and happiness because He himself will take care of the person who trusts in Him (Diary 1273); and He will heap His confidence upon this soul and give it all it asks (Diary 453). He assured that, He who trusts in my mercy will not perish, for all his affairs are Mine, and his enemies will be shattered at the base of My footstool (Diary 723). He asked her to invite other souls to trust and requested that she implore trust for the dying. The Lord urged her to fight for the salvation of souls by encouraging them to trust in the mercy of God. "When my soul is tormented, my only thought is this: Jesus is good and full of mercy, and even if the world were to fall apart under my feet, I would not stop trusting in Him" (Diary 1059).
Because of her trust, her complete submission to the will of God, her childlike trust in the heavenly Father in every situation, even painful ones, great things were accomplished in Sister Faustina's life: on earth she attained the mystical summit of union with God, and, through her, the Lord could transmit to the world the message of His mercy, through which many souls would attain salvation (Diary 1300).
sr. M. Elisabeth Siepak ISMM
"The Spiritualty of Saint Sister Faustina"
Translated by sr. M. Nazareta Maleta ISMM
                      sr. M. Caterina Esselen ISMM
Prepared by sr. M. Diana Kuczek ISMM