The Church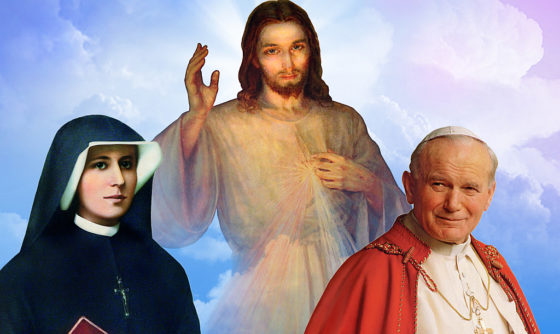 Although the trait of the love of the Church appears in many schools of spirituality, in each of them it has its own specific colouring. Sister Faustina sees the Church as a great gift of God's mercy, an extremely generous gift, because it constitutes space for the union of life between the Creator and Saviour and man. In her writings she frequently uses the image of the Church as a mother who by the very nature of things is merciful to her children, and the image of a Mystical Body of Christ in which every part lives in unity with the Head and other parts.
Sister Faustina had the opportunity to convince herself not only through the spirit of faith, but also through her numerous visions and mystical experience that it is precisely the Church that constitutes the union of man's life with God and that it is a space containing His living presence. When I steeped myself in prayer, I was transported in spirit to the chapel, where I saw the Lord Jesus, exposed in the monstrance, she recorded in her Diary, in place of the monstrance, I saw the glorious face of the Lord and He said to me, «What you see in reality, these souls see through faith» (Diary 1420).
A sign of God's mercy for Sister Faustina was not only the very fact of founding the Holy Church and the living presence of God in it, but also His activity directed towards man, expressed particularly through the word which enlightens and through the sacraments in which He grants various graces which are necessary for man in order to attain future life. In her litany appeals as well as in other passages of her Diary, Sister Faustina writes about this directly and openly, mentioning different manifestations of God's great mercy, such as holy baptism, justification through Jesus Christ, endowing man with immortal life, offering man the possibility of conversion, of receiving sacraments in which Jesus grants various types of graces for each and every moment of human life…(Diary 949, 1286 et al.).
Another manifestation of God's mercy in the Church is for Sister Faustina the spreading of God's holiness among creatures. Only God is holy and His holiness is so great that all heavenly powers tremble before it, losing themselves in never ceasing adoration; they express their adoration for Him calling: Holy, Holy, Holy…(Diary 180). This holiness of God, as Sister Faustina puts it in her Diary, is poured out upon the Church of God and upon every living soul in it, but not in the same degree. There are souls who are com- pletely penetrated by God, and there are those who are barely alive (Diary 180). Although God pours His holiness on all souls, yet man's sanctification depends also on his freedom, on his acceptance of the wealth of gifts which God had left for him in the Church. Yet, the very chance of transforming one's life, of improving it with the help of supernatural means, the invitation to share the community of life with God, the possibility of an ever fuller participation in the life of Jesus and in His mission, were perceived by Sister Faustina as great gifts of God's mercy, which were totally undeserved by man and were received by him only out of the merciful love of his Creator and Saviour. Perceiving this immense love of God in the Church, Sister Faustina could in all sincerity of heart confess her great joy which she expressed in the sentence, What a joy it is to be a faithful child of the Church! (Diary 481). Such perception of the Church awakens in her the spirit of gratitude towards God and mobilises to care about great sanctity.