The Contemplation of Divine Mercy in Everyday Life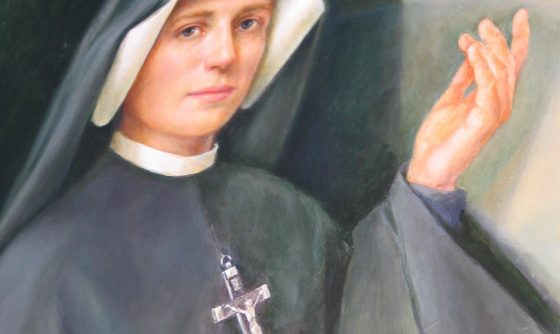 The contemplation of Mercy in daily life is the characteristic aspect in the school of St. Faustina's spirituality. "Acquired contemplation, as Tanquerey maintains, is a simplified affective prayer, the act of fixing a simple gaze on God joined with an affection of admiration and love". Souls that reach the state of contemplation "need neither long meditations nor intellectual probing, since they come to know God rather spontaneously and without interference; they walk to some extent before the face of God, and they love God almost instinctively, just as a child loves its kind mother. For those souls it is difficult to conceive how anyone cannot love God, how anyone can live without Him."
Saint Sister Faustina teaches us to contemplate God in daily life – to encounter Him in one's own soul and to live one's whole life with Him. "I seek no happiness except in my interior, in which God abides – she avowed in the Diary – I rejoice in God within me. Here I dwell constantly with Him; here I am at my most intimate with Him; here I safely dwell with Him, here is a place beyond the reach of human gaze. The Blessed Virgin is encouraging me to abide with God in this manner" (Diary 454; cf. Diary 1793).
A simple practise for the contemplation of God in daily life was exercised by sister Faustina at the convent life, and when she wanted to change it, the Lord Jesus did not give her permission to do so, knowing how great an advantage it brings for the spiritual life. This practise consists in uniting herself with Jesus dwelling in her soul e.g. through an ardent act of prayer (short prayerful invocation). A consequent use of this practise brings abundant fruits in the spiritual life: it develops a personal bond of love with God and leads to a fuller participation in the life and mission of Jesus. It allows for common life with Him in one's own life in all dimensions. "With Him I go to work – Sister Faustina wrote – with Him I go to recreation; with Him I suffer, with Him I rejoice; I live in Him, and He lives in me. I am never alone, for He is my constant companion; He is present at every moment" (Diary 318). Such practised contemplation of Mercy in daily life does not demand seclusion from the world, staying in the convent. It may be adapted to every vocation. In the times of great fear, lack of the feeling of safety and love, God through the life of St. Faustina reminded us about the truth of His indwelling in the human soul, about which St. John wrote in his Gospel, and called to stay with God in the depths of one's own existence.
The contemplative life is commonly associated with seclusion, solitude, and prayer. Certainly, these conditions are conducive to contemplation, but contemplation does not depend on them. Sister Faustina's life, while running its course behind convent walls, demonstrates that contemplation is possible anywhere, not only in the chapel or during prayer, but also at work and in all the circumstances of daily life. For its essence does not consist in being secluded from the world, but in consciously staying with God. Before she herself understood this truth, she tried to fulfil her desire of leading a contemplative life in cloistered monastery. For this reason, Sister Faustina wanted to transfer to a religious community of a stricter observance (Diary 18) after having spent three weeks in the Congregation of the Sisters of Our Lady of Mercy. The Lord Jesus, however, did not allow her to leave this Congregation neither during the postulancy nor during the time of perpetual profession when, guided by the desire to fulfil God's will, she wanted to found a contemplative monastery that would proclaim and implore God's mercy for the world. The Lord made her stay until death in the Congregation to which He had called her to show, among other things, that it is possible to attain even the peaks of contemplative life in every vocation, in every circumstance, in the drab, everyday human life by carrying out the most mundane duties. Nevertheless, definite requirements must first be met; namely, one must lead an ascetic life and cultivate a spirit of prayer. Sister Faustina also followed this path, trodden by thousands of saints, leaving us the example of contemplation in everyday life.
In Sister Faustina's Diary, there are many descriptions of prayer which would change into a state of contemplation. "Jesus, my Love – she wrote – let me know how much He loves me, even though there is such a huge gulf between us – Creator and creature – yet, in a way, there is also a sort of equality, for love fills in and evens out the chasmal disparity. He comes down to me Himself and enables me to abide with Him. I have immersed myself in Him, as if losing myself completely, yet under His loving gaze, my soul grows in strength and power, and awareness that it loves and is loved in a special way; it knows that the Mighty One is defending it" (Diary 815).
Whenever she began meditating on the mystery of Divine Mercy, contemplating the benefits that God bestows upon people, she could not finish this meditation, as she avowed, because her spirit became entirely drowned in God (Diary 1523). "I cannot help falling into wonder whenever I see and experience that infinite Divine love with which God loves me. Who is God, and who am I? I can go no further in my meditation. Only love understands the meeting and uniting of those two spirits – God the Spirit and the soul of the creature. The more I learn about Him, the deeper I submerge in Him with the whole force of my being" (Diary 729).
Coming to know the mystery of Divine Mercy through reason and meditation would turn into acts of contemplation – into a simple gaze, a look, and at times a brief glance at God joined with a feeling of adoration and love. Every act of contemplation endowed her soul with a deeper knowledge of God, an awareness of His mercy, as well as a deeper self–knowledge. "At such times I see the greatness of God and my own nothingness" (Diary 289). "His kind of knowledge – declared Sister Faustina – neither depresses me nor pushes me away from the Lord; but rather in my soul it kindles an even greater love and boundless trust, and my heart's contrition is combined with love" (Diary 852). These acts of contemplation, though frequently quite brief, nevertheless endowed Sister Faustina's soul with a more perfect knowledge of God and of His attributes, particularly His mercy, and with a sensitivity to His presence. Furthermore, they enkindled her love for God and souls, making her ready to fulfil God's every wish.
In Sister Faustina's life, contemplation was not restricted to the time of prayer, but extended over all her life. The knowledge of the mystery of Divine Mercy enabled her to discover God in her soul, and so she did not seek Him somewhere in the distance, nor did she have to go before the tabernacle to meet Him. Instead, she communicated with Him in the depths of her being wherever she was. "The interior of my soul – she wrote – is like a big and wonderful world in which God and I live. No-one else except God can come inside my soul" (Diary 582; cf. Diary 193, 1385, 1021). The theme of the presence of Jesus living in the soul appears many times on the pages of the Diary. "I can feel You and the Father and the Holy Spirit living in me, or rather I feel I am living in You, O infinite God. … I have encountered You within my heart and have come to love You above all things, over whatsoever exists on Earth or in Heaven" (Diary 478). She compared her soul to a tabernacle, wherein the living Host is reserved (cf. Diary 1302), and she communed with the Lord in the depths of her being.
The Lord Jesus himself even taught Sister Faustina how to commune with God in her soul when He explained that He is always present there, even if she does not perceive Him, and that only mortal sin drives Him out of a soul (Diary 1181); when He said that He would tell her most in the depths of her heart where no one could disturb His actions (Diary 581); when He clarified what great value a single act of pure love for Him has (Diary 576); and when He encouraged her to join her prayers, fasts, mortifications, labours and all sufferings to His prayer, fasting, mortification, labours and sufferings (Diary 531). Sister Faustina faithfully put into practise all the counsels that she had received from the Lord Jesus and the Mother of God. Consequently, to abide with God in the interior of her soul became her very life. "I feel that God is in my heart. The feeling that God is in my soul in no way stops me from carrying out my duties; even when I'm carrying out the most important matters which call for attention, I never lose the presence of God in my soul, and I am fully united with Him"  (Diary 318).
The practise of uniting herself with the Merciful Christ was the basis for Sister Faustina's contemplation of God dwelling in her soul (Diary 743, 790, 861, 905, 1105, 1778 and others). This was her daily resolution for the particular examination of conscience for years at a stretch. "This exercise – she noted – gives me a wonderful strength; my heart is always united with the One it longs for, and my deeds are regulated by the mercy that flows from love" (Diary 703). "With Him, in Him, and through Him shall I give glory to God" (Diary 1177). When she wanted to change this practise, the Lord Jesus did not give her permission to do so, recommending that she continue to unite herself with Him, present in her soul (Diary 1544). Her duties did not prevent her from uniting herself with Jesus because she did not allow herself to become absorbed in the whirl of work or other exterior things (Diary 226, 582). She spent all her free time with the Divine Guest within her soul (Diary 504), and from Him she drew light and strength to fight difficulties and oppositions (Diary 193). As we know, she had quite a few of them.
Being aware of Jesus' presence in the soul and contemplating Him deepened Sister Faustina's sensitivity to every other manifestation of His presence and His wishes. She perceived Him everywhere. "I see that everything that surrounds me – she wrote – is full of God; and most of all my soul, which is embellished with His grace" (Diary 887). She could detect God in other people, in various circumstances of everyday life, and even, as she writes, in the most hidden things (Diary 148); she saw His goodness everywhere, also in those circumstances that are difficult for us to accept. Staying with the Beloved in the depth of her soul made her sensitive to every manifestation of His will, even to the slightest spiritual inspirations, which she would receive in love, even if she had to pay a high price of toil and suffering for it. This presence of God in her soul gave her the opportunity to unite herself directly with Jesus. It allowed her to live with Him, in Him, and for Him every day and at every moment, as well as to welcome the manifestation of His will as an incomprehensible gift of Divine Mercy. Many times she wrote that she could not help being amazed when she contemplated this truth of our faith (Diary 1523), for everything begins with Your mercy and ends with Your mercy (Diary 1506).
After going through the passive nights of the senses and the spirit, Sister Faustina experienced states of infused contemplation frequently. God would take complete possession of her soul, and in these moments she communed with Him effortlessly in a simple and loving way. "Usually I'm with the Lord in a more profound manner – she wrote in the Diary – My senses are put to sleep, and things are real though imperceptible, and much clearer to me than if I saw them with my eyes. In a flash my intellect understands more than what I'd learn in years of thinking and meticulous consideration, about the nature of God and the revealed truths, and about my own nothingness" (Diary 882).
Sister Faustina did not have any theological training; nevertheless, she left us remarkably beautiful descriptions of infused contemplation, expressing in simple and accurate language the essence of contemplation, its results and ways, and how her soul experienced these states. "My relations with the Lord – she recorded in the Diary – now are purely spiritual; my soul has been touched by God and is completely absorbed in Him unto self-forgetfulness; it is permeated with God through and through, completely submerging in His beauty, immersing completely in Him. I cannot describe it in writing, for when I write I use my senses, but the senses play no part in that union, what is there is the fusion of the soul with God, the life in God to which the soul is admitted is so immense that language cannot express it. When the soul returns to its normal life, it sees that this life is but a murky shadow, a vapour, a sleepy confusion, a baby's swaddling. At such times, the soul is merely the recipient of all things from God, for it does nothing of itself, it does not make even the slightest effort, it is God Who works everything within the soul" (Diary 767).
Initially, the acts of infused contemplation in Sister Faustina's life appeared sporadically, even before she had entered the convent (cf. Diary 1404, 770). Later on, they appeared ever more frequently, especially during the passive night of the spirit which enabled her soul to abide with God. At times, the acts of infused contemplation were prolonged and would last throughout the whole day. "For the entire day without intermission – she recorded – I lived immersed in God. In the evening, I suddenly went into a state like fainting and a wonderful kind of dying; my love wanted to fully answer to the love of the Mighty One; it was being so strongly and swiftly drawn up to Him that it would have been impossible to endure such an immensity of grace in this life without special grace from God. But I can clearly see that Jesus is supporting and strengthening me, enabling me to abide with Him" (Diary 708, cf. Diary 1246).
Our Lady, as Sister Faustina's notes indicate, obtained this grace of infused contemplation for her; likewise, the Mother of God taught her on several occasions how to lead the interior life. "Try to make yourself meek and humble – She told her so that Jesus – Who dwells perpetually in your heart, may rest. Adore Him in your heart, do not leave your interior. I shall pray for the grace to be granted you, My daughter, of a spiritual life such that, without leaving your interior, you may carry out all your external duties well, and with even greater precision" (Diary 785). This record in Sister Faustina's Diary confirms the opinion of those theologians who assert that infused contemplation is a gift from God and that man cannot attain it by his own effort of spirit, that is, by the simple cooperation with divine grace. God grants this grace – the gift of infused contemplation – to those souls who are capable of receiving it: to those who have passed through the extremely painful purifications of the passive nights.
Every Christian, however, can attain – as the majority of theologians affirm – the state of acquired contemplation. It is a process of discovering God in one's own soul and of experiencing His power.This lies within the bounds of the human spirit's power when it cooperates with the grace of God. Sister Faustina indeed teaches us to seek this incomprehensible gift which God has placed in the human soul: He himself. She teaches us how to become a contemplative person in action. She tells us that we must resolve to live the interior life intensively and very earnestly, because in order to enter into the fascinating world of faith, the soul must be purified, not only from sin but also from the stimuli given by the senses or the world of the creative intellect. The more purified the soul is, the more capable one is of discovering the living God in one's soul, of developing a personal bond with Him, of contemplating Him, regardless of whether one lives in the convent or in the world. Such a soul will then be able to endorse Sister Faustina's words, "My spirit is with God; my interior is full of God, so I don't have to look for Him beyond myself. The Lord penetrates my soul like a ray of sunlight passing through a clear piece of glass. I was not as intimately united with my own mother when I was in her womb as I am now with my God; in the former situation, I was completely unaware [of what was going on]; now there is full awareness of the reality and of being united" (Diary 883).
sr. M. Elisabeth Siepak ISMM
"The Spiritualty of Saint Sister Faustina"
Translated by sr. M. Nazareta Maleta ISMM
                      sr. M. Caterina Esselen ISMM
Prepared by sr. M. Diana Kuczek ISMM