The Knowledge of the Mystery of Divine Mercy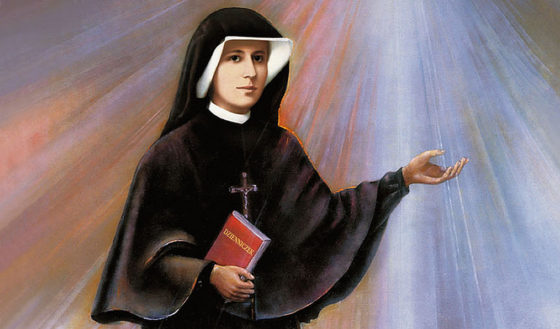 The first task in the school of St. Faustina's spirituality is coming to know God in the mystery of His Mercy. The Apostle of Divine Mercy did it first by very simple means, such as meditation of the Word of God, spiritual reading, listening to conferences, reflecting on the mysteries of the rosary and the stations of the way of the cross, participating in days of recollection and retreats, profoundly experiencing the holy sacraments, the solemnities of the Church throughout the liturgical year. Not only did she come to know the mystery of Divine Mercy on the ground of the Holy Scriptures, Liturgy of the Church…, but she also tried to perceive the signs of His love in her own life. In daily check of conscience she asked: what has God done for me today? Such knowing the mystery of Divine Mercy caused that the mystery of God's love was not abstract, something beautiful yet unattainable or out of reach; rather, it takes on concrete forms in the ordinary life of man.
In doing so, Sister Faustina saw that her entire life was immersed in the mercy of God. "Every day my soul – she wrote – bathes in the rays of Your mercy; I know of no moment in my life when I did not experience Your mercy, O God"  (Diary 697). It is like "the golden thread Your mercy is like a golden thread that passes through the whole of our lives and keeps our very existence in contact with God in the right way"  (Diary 1466). Sister Faustina realised very clearly that the knowledge of the mystery of Divine Mercy is not attained by one's own efforts alone but that the work of the human intellect must be strengthened by divine grace. Thus, she pleaded, "O Jesus, give me wisdom, give me a great mind enlightened by Your light, only that I might know You better, O Lord, for the better I know You the more ardently I'll love You" (Diary 1030; cf. Diary 1474).
Sister Faustina noticed also that it is possible to come to know God, not only by the intellect, but by the practise of love of neighbour, too. "I have observed and experienced – she ascertained in the Diary – that souls living by love are characterised by great enlightenment in the understanding of things pertaining to God, both those regarding their own souls as well as the souls of others. Simple, uneducated souls, too, are marked by great knowledge in this respect" (Diary 1191).
Such coming to know God in the life of Sister Faustina was strenghtened by the gift of acquired contemplation and through it she penetrated very deeply this mystery of our faith in order to let it know to the world. Through her records saved in the Diary we can know God better in the mystery of His merciful love towards man.
The supernatural virtue of faith, which is the gift of the Holy Spirit given in Baptism, enables us to know the mystery of Divine Mercy. Through it man is able to come to know revealed truths and among them merciful love of God towards man. The Congregation's constitutions recommended that the sisters ponder frequently "what God did for the salvation of souls in creation, what He did and suffered in the redemption, and what He is preparing for them in eter- nal glory". Faithful to this rule, Sister Faustina would reflect on the mystery of Divine Mercy and came to know it, by beginning to meditate on the work of creation, continuing with the work of redemption, and ending with man's destiny in eternal glory. In her Diary, she wrote those meditations on the mystery of Divine Mercy, enriched by the gift of contemplation and mystical experience of God.
In her Diary, she left us original writings describing creation as the work of Divine Mercy. "O God, – she wrote – You are bliss in Your very Self and need no creatures to make You happy, for You are the fullness of love in Your very Self; but in Your unfathomed mercy You have called creatures into existence and given them a part in Your eternal bliss, and in the eternal Divine inner life that You live, One God in Three Persons" (Diary 1741). Sister Faustina freely expressed that the sole motive for calling creatures from nothingness into being is Divine Mercy. God does not need anything to be happy. And so, if He calls something into existence, He does so only because He is Mercy, who wants to share the gift of existence, even allowing intelligent beings to share in His life. "O God – Sister Faustina wrote in another passage – in Your mercy You deigned to call humankind into existence out of nothingness, and You generously bestowed grace and the gifts of nature upon it. But this did not seem enough for Your goodness: in Your mercy, O Lord, You have granted us eternal life. [102] You have admitted us to Your eternal bliss and given us a part in Your inner life, and You do so solely out of Your mercy. You bestow Your grace on us in this way, only because You are good and full of love. You had no need of us at all to make You happy; but, Lord, You want to share Your bliss with us"  (Diary 1743).
Sister Faustina saw that man is at the centre of creation. God calls the entire universe into existence for him. He even commanded the angels to guard him in all his ways (cf. Ps 91:11). This is why she delights in the merciful love of God for man and exclaims: "O God, how generously You have distributed Your mercy, and all of this You have done for the sake of Man. Oh, how You must love mankind, if Your love is so active for its sake" (Diary 1749).
In the creation of man and the universe, Sister Faustina perceived not only God's perfection, power, and wisdom but above all His mercy – the most profound motive of His work. God, moved by mercy alone, called everything into existence out of nothingness. "All that has come from the Creator's hands – wrote Sister Faustina – is locked in an unfathomable mystery, that is, in the depths of His mercy. Whenever I ponder on this, my spirit stands still and my heart overflows with joy" (Diary 1553).
The contemplation of the mystery of Divine Mercy in the work of redemption brought Sister Faustina even greater delight. She praised God for the gift of the Incarnation of the Son of God, who came to earth to amend Adam's fault and to lift up fallen humanity, plunged into sins. "Mercy prompted You to – she professed in conversing with Jesus – come down to us Yourself and lift us up out of our wretchedness. God, the Lord of Lords, is to come down to Earth, the Immortal One is to stoop down. … And the uncomprehended miracle of Your mercy is accomplished, O Lord: the Word is made Flesh, God – the Word of God, Mercy Incarnate – has come to dwell among us" (Diary 1745). This abasement of God in taking on human nature is the expression of His mercy, the excess of His love at which heaven is amazed (Diary 1745). For at that moment, God becomes very close to man, as He shares his earthly life in everything except sin.
The mystery of Divine Mercy is revealed most fully in the Paschal mystery of Christ. "O God – reflected Sister Faustina – You could have saved thousands of worlds with just one word; one sigh from Jesus would have sufficed to recompense Your justice, but instead, O Jesus, You under[1]went such terrible suffering Yourself, solely out of love of us. You Father's Justice would have been atoned for with just one sigh from You; therefore all that You suffered was the work solely of Your mercy and infinite love. When You were departing from this world" (Diary 1747). Meditation on the Paschal mystery led her to penetrate ever more deeply into the mystery of Divine Mercy; therefore, the Lord Jesus encouraged Sister Faustina many times to meditate on His passion (cf. Diary 149, 159, 267). "I want – He said – you to acquire a fuller knowledge of My love, the love with which My Heart is aflame for souls, and you will understand this when you meditate on My Passion" (Diary 186, cf. Diary 1663). Sister Faustina herself admitted that by meditating on the Lord's Passion much light fell upon her soul (Diary 267). She came to know God better, and particularly His merciful love, bending over every person, especially the sick in soul, for such a person is in greatest need.
As she contemplated the mystery of Divine Mercy in the order of salva- tion, Sister Faustina recognised God's mercy in the foundation of the Church, in the Word of God, and in the holy sacraments, particularly in the sacraments of Reconciliation and the Eucharist. "I'll never stop being amazed – she avowed – that the Lord enters on such an intimacy with His creature; again it's His infinite goodness. I am always beginning this meditation, but I never finish it because my spirit submerges completely in Him" (Diary 1523). She understood that man has received from God's mercy everything he possesses, starting with his existence and ending with the smallest grace. The greatness of this mercy revealed itself to her in a special way when she considered it in relation to sinners. "O Jesus – she prayed – Your goodness surpasses all comprehension, and none shall ever exhaust Your mercy. Perdition is for the soul that wishes to perish; for them that want to be saved there is an inexhaustible sea of the Lord's mercy"  (Diary 631).
As a result of the work of creation and salvation, man shares in the glory of God. This is a gift of the Divine Mercy as well. "During Meditation – wrote Sister Faustina – the Lord let me know the joys of Heaven and the Saints. … They love God as the sole object of their love, but they also love us dearly and wholeheartedly; …that joy flows down from the Lord's face upon all of us, for we see Him face to face. That face is so sweet that the soul falls into a new rapture" (Diary 1592).
The systematic penetration into the mystery of Divine Mercy awakened in her heart a longing: "O You, the Unbounded and Unfathomed, the better I know You, the less I understand You, but because I cannot comprehend You, I understand Your greatness all the better" (Diary 278). Sister Faustina experienced the truth that God is a mystery, in- comprehensible to human reason. And yet, the knowledge that is accessible to man through reason enlightened by faith already suffices for Sister Faustina to affirm: "I have come to know You, O God, as the fount of mercy by which all manner of souls are nourished and invigorated. O, how great is the Lord's mercy, greater than all His other attributes; mercy is God's greatest attribute; all that surrounds me tells me this" (Diary 611).
sr. M. Elisabeth Siepak ISMM
"The Spiritualty of Saint Sister Faustina"
Translated by sr. M. Nazareta Maleta ISMM
                      sr. M. Caterina Esselen ISMM
Prepared by sr. M. Diana Kuczek ISMM