Today
Spirituality is a way of life according to the Spirit, which in each Congregation is closely connected with its apostolic mission and defined in its Constitutions.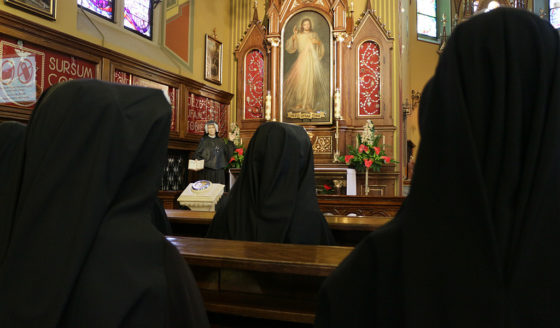 "The spirituality of the Congregation of the Sisters of Our Lady of Mercy may be summarized in the word MERCY. Every sister is to do her utmost to express mercy in her entire being, so that it penetrate her thoughts, words, and deeds" (Art. 7).
(Constitutions of the Congregation of
the Sisters of Our Lady of Mercy, 1985).
The contemporary Constitutions of the Congregation define its spirituality in one word: MERCY. This word characterizes the lifestyle of the entire Institute and each sister who is to try to form her life in this spirit. It means – as Saint Sister Faustina said – "to turn into mercy". The mystery of God's mercy is thus at the heart of this spirituality, which is the source, model and motive for mercy in human relations. Exploring the mystery of God's mercy and its contemplation in everyday life, and pondering on the active participation of Mary Mother of Mercy in the Redemption, leads to an attitude of trust in God and mercy toward one's neighbours, to an apostolic zeal, which is courageous, patient and unselfish and which gives the sisters the willingness to offer sacrifices for the salvation of souls. The Devotion to The Divine Mercy in the new forms given by St. Sister Faustina is inscribed in this practice of spirituality. She brings a new school of spirituality into the history of the Congregation and of the Church. The mystery of Divine Mercy embraces in one spirituality the whole history of the Congregation and the Church. The Divine Mercy shapes not only the image of God and a relationship of trust in Him, but also human relationships, prayer and ascetic practices, in a word – one's entire life with reference to God, to people, to the world and to oneself.
Translated by Orest Pawlak