Live broadcast of the Hour of Mercy and the Chaplet
As often as you hear the clock strike the third hour, immerse yourself completely in My mercy, adoring and glorifying it; invoke its omnipotence for the whole world, and particularly for poor sinners; for at that moment mercy was opened wide for every soul (Dz. 1572).
Live broadcast
Live broadcast – TVP3
     Daily at 3:00-3:20 PM   

 
The Congregation of the Sisters of Our Lady of Mercy lead the prayers at the Hour of Mercy and the Chaplet of the Divine Mercy at the Shrine in Krakow-Łagiewniki. Together with the pilgrims, listeners of various radio stations, television viewers and Internet users, we can implore graces for ourselves and the world, because Jesus said to Saint Faustina: In this hour you will obtain everything for yourself and for others for the asking, if it is compatible with God\'s will, and if we pray with confidence, perseverance together with acts of mercy toward our neighbours. Read more about the Hour of Mercy and the Chaplet at this link: Mercy – Devotion.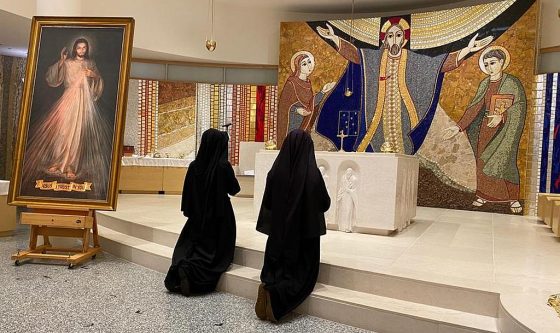 SUPPORT FOR ONLINE BROADCASTS
Please forward your donations to:
Zgromadzenie Sióstr Matki Bożej Miłosierdzia
Dom Zakonny w Krakowie
ul. Siostry Faustyny 3
30-608 Kraków
Bank BGŻ BNP Paribas S. A.
ul. Kasprzaka 10/16
01-211 Warszawa
Poland
Bank account numbers:
80 1600 1013 0002 0012 3671 2001 – PLN
73 1600 1013 0002 0012 3671 2030 – EUR
41 1600 1013 0002 0012 3671 2024 – USD
BIC (SWIFT) code: PPABPLPK
IBAN: PL
Add a note: Transmisja on-line 
Archives of transmission:
© Copyright by The Congregation of the Sisters of Our Lady of Mercy