Chaplet of the Divine Mercy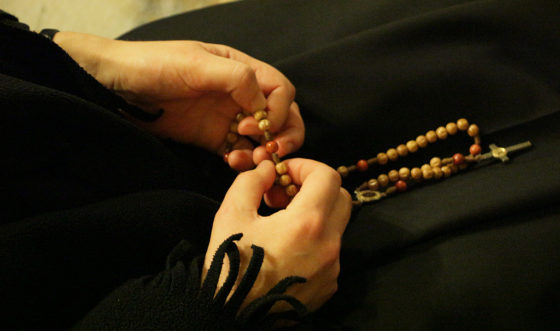 The Chaplet of Divine Mercy is a unique prayer because it was given by Christ Himself. Sister Faustina heard it first in the interior of her soul and prayed using its words when in a vision she saw an angel, who came to punish the earth for sins (Diary 474-475). The second day, the Lord Jesus carefully showed her how to recite this prayer, and explained how great is its importance (Diary 476). In the subsequent revelations Jesus gave promises which He linked with reciting the prayer in trust.
First, Sister Faustina herself recited the Chaplet in different situations: beside the dying, asking for rain or to silence a storm. In 1937, Father Sopoćko arranged to obtain the imprimatur for the Chaplet and to get it published in Kraków, both on the images of Merciful Jesus and in the booklet entitled Chrystus, Król Miłosierdzia (Christ, King of Mercy). Since World War II the text of the Chaplet has spread far and wide. The Chaplet has been translated into other languages and published in many countries on pictures, in brochures, and in prayer books. In particular, Marian priests from the USA rendered enormous services here. They published materials about the Divine Mercy in many languages and worked towards getting such publications circulating in other countries.
The prayer book entitled Miłosierdzie Boże, ufamy Tobie (Divine Mercy, We trust in You) played a great role in promoting devotion to the Divine Mercy in the form given by Sister Faustina, including the Chaplet of Divine Mercy. It was prepared immediately after World War II, by Father Józef Andrasz SJ (Kraków spiritual guide to Sister Faustina). The book was first published by Jesuits in Kraków and the English version was published by Marians in the USA, who popularized it also in Canada, Australia, New Zealand, Asia and Africa. A Spanish translation of this small book was also published and, with the imprimatur of the local bishops, circulated in huge numbers in Latin American countries, especially in El Salvador, Colombia, Ecuador, Chile, Mexico, Argentina, Uruguay, Peru and Guatemala. It was distributed in Portuguese in Brazil; and in Europe the book was also translated and published in German, Italian, Spanish and Portuguese.
Today the Chaplet of Divine Mercy is the most famous prayer to the Divine Mercy, recited by the faithful around the world to implore mercy for themselves and for the world. It is also worth remembering that this prayer was referred to by the Holy Father John Paul II, at the end of the Act of entrusting the world to the Divine Mercy.