In the Church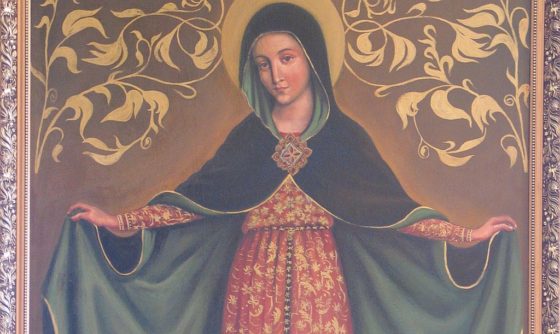 The iconography of Our Lady of Mercy varies according to the age, the part of Europe and the place where Mary's mercy was or is being venerated. In the West, the image of Mater Misericordiae with a mantle of protection became very popular from the thirteenth century on. It protected representatives of the hierarchy, different cities, religious orders (especially Cistercian monasteries), the Franciscan brotherhood and other communities. Her images have appeared in churches, on banners, in monasteries, and on seals and woodcuts. This iconographic idea of Mater Misericordiae sur- vived in a simplified form until the eighteenth century.
In the East, the idea of Mater Misericordiae was known as Pokrov or Pokrova with a protective scarf or shawl, with which she held those fleeing under her protection. Mary held it in her hands or angels spread it over an area or community where she spread her protection. The iconography and liturgy of Pokrov Theotokos was related to a vision of St. Andrew Fool-for-Christ in the Blacherne church: Mary appeared to him among the saints and after a prayer before the altar, she spread the shroud out on her hands as a sign of protection for people. Her garment was preserved in this church as a priceless relic. Within this relic's veneration grew an idea of the Mother of God's protectiveness, which has survived to this day. With time, new strands were introduced into the veneration of Mater Miserticordiae in the West – a defence against the wrath of God, which also changed the iconography. Mary was presented without the mantle of protection, but as the one who breaks the arrows of God's anger. In the beginning, some places affected by the wrath of God were shown in the background of her figure: later only the figure of Mary remained, breaking in her hands the arrows of God's anger. In the seventeenth century, the Piarists promoted this type of iconographic image and sculpture depicting the mercy of Mary. It is known in Poland under the name of Our Lady of Grace (Gracious Mother of God), under which title she has been recognized since 1664 by the municipality of Warsaw as the patron of the city.
Since the seventeenth century, Our Lady of Mercy has also been venerated in the image of the Gate of Dawn (Ostrobramska). It shows Mary at the moment of Annunciation, accepting the Son of God, Mercy Incarnate, into her life – at the same time uttering her 'fiat' at the foot of the cross, which is indicated by the gesture of her hands crossed on her chest. The image became famous for its many graces and lively devotion to the mercy of Mary. It was therefore crowned in 1927 and the Chapel of the Gate of Dawn in Vilnius became the most famous Shrine of Our Lady of Mercy in this part of Europe, not only for Catholics.