Miraculous image of Merciful Jesus
The picture of the Merciful Jesus has been one of the most well-known images of the crucified and risen Christ in the history of the Church and in the contemporary world. This is an unusual picture not only because of the fact that it is the most popular one but, above all, because the Lord Jesus Himself is its coauthor.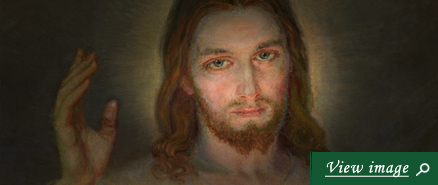 3 billion pixels, 12 hours shooting, 6 months work.
For the first time in Poland such a large gigapixel reproduction of the most famous and honoured image of Merciful Jesus appears- the one in the convent chapel at the Shrine of Divine Mercy in Krakow-Lagiewniki, painted by Adolf Hyła.The presentation was prepared by Peter Tumidajski. Thanks to the high resolution of this photograph it is possible to view this famous picture of Merciful Jesus as close as possible.
Photo: Piotr Tumidajski
 © Copyright by Zgromadzenie Sióstr Matki Bożej Miłosierdzia

Copying, reproduction, dissemination at various levels,
in whole or in part to derivative works, including websites, requires the written approval of the Congregation of Our Lady of Mercy.