The Attitude of Trust in God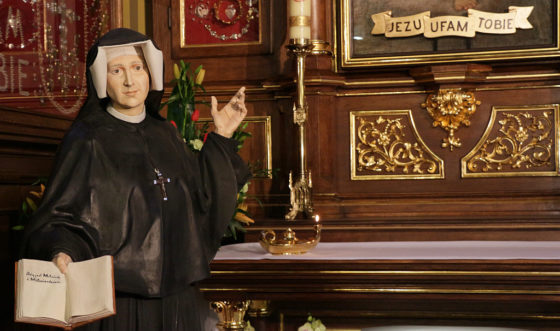 The word trust in the school of St. Faustina's spirituality signifies the attitude of man towards God. In the signature of the image, which Jesus ordered her to paint, are the words: Jesus, I trust in You! Trust is the first response of man to knowing and experiencing the attentive merciful love of God. This word has unusually rich contents because it signifies not only faith in the existence of God, in His omnipotence, in the truths revealed through Him, but it also denotes an all-embracing attitude of man towards God, which expresses the fulfillment of God's will contained in the commandments, in the duties of our state of life, as well as in the recognised inspirations of the Holy Spirit. In the writings of Sister Faustina, trust is identical with the biblical conception of faith and so it means entrustment of own life to God as the best Father who does not desire anything other than man's temporal and eternal happiness. God's will – as Sister Faustina often used to say – is for us mercy itself. It is the fulfillment of God's will that is a concrete measure of trust towards God. The Lord Jesus said to Sister Faustina, "The graces from My mercy are drawn by one vessel, and that vessel is trustfulness. The more trustful a soul is, the more it will receive. Souls that have boundless trust are a great comfort to Me, for into such souls I pour all the treasures of My graces. I am pleased when they ask for much, for I want to bestow much, and even very much. But I am saddened when souls ask for little, when they tighten and close up their hearts" (Diary 1578).
The attitude of trust has a dynamic character and in Sister Faustina's life it yielded continuous growth until her complete entrustment to God in all dimensions of life. In order to develop the attitude of trust, Sister Faustina made use of very simple means, ordinary and accessible to everyone, such us: development of faith, hope, love, humility, and contrition – virtues conditioning the attitude of trust, but also the practise of daily fulfillment of God's will even in very small things. But the point is that she used them consistently, and this often required great fortitude of spirit, radicalism, and tenacity in fighting with her spoiled nature – as she would put it. Building up the attitude of trust demanded her continuous conversion. She had to overcome herself, not only as regards her weaknesses, but also as regards her natural capacities; e.g., the logic of reason. Because, oftentimes, God would place her precisely in such situations where she had to deny her reason, suspend the logic of human thinking so as to trust Him, and consequently, to accept and carry out His will. The Lord Jesus highly valued Sister Faustina's efforts to develop the attitude of trust, saying: "You have great and infinite rights to My Heart, for you are an absolutely trusting daughter"  (Diary 718).