The Contemplation of Divine Mercy in Everyday Life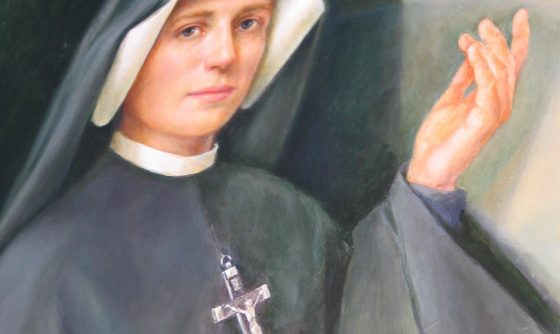 The contemplation of Mercy in daily life is the characteristic aspect in the school of St. Faustina's spirituality. Acquired contemplation, as Tanquerey maintains, is a simplified affective prayer, the act of fixing a simple gaze on God joined with an affection of admiration and love. Souls that reach the state of contemplation need neither long meditations nor intellectual probing, since they come to know God rather spontaneously and without interference; they walk to some extent before the face of God, and they love God almost instinctively, just as a child loves its kind mother. For those souls it is difficult to conceive how anyone cannot love God, how anyone can live without Him.
Saint Sister Faustina teaches us to contemplate God in daily life – to encounter Him in one's own soul and to live one's whole life with Him. I look for no happiness beyond my own interior where God dwells, she avowed in the Diary, I rejoice that God dwells within me; here I abide with Him unendingly; it is here that my greatest intimacy with Him exists; here I dwell with Him in safety; here is a place not probed by the human eye. The Blessed Virgin encourages me to commune with God in this way (Diary 454; cf. Diary 1793).
A simple practise for the contemplation of God in daily life was exercised by sister Faustina at the convent life, and when she wanted to change it, the Lord Jesus did not give her permission to do so, knowing how great an advantage it brings for the spiritual life. This practise consists in uniting herself with Jesus dwelling in her soul e.g. through an ardent act of prayer (short prayerful invocation). A consequent use of this practise brings abundant fruits in the spiritual life: it develops a personal bond of love with God and leads to a fuller participation in the life and mission of Jesus. It allows for common life with Him in one's own life in all dimensions. With Him I go to work, Sister Faustina wrote, with Him I go for recreation, with Him I suffer, with Him I rejoice; I live in Him and He in me. I am never alone, because He is my constant companion. He is present to me at every moment (Diary 318). Such practised contemplation of Mercy in daily life does not demand seclusion from the world, staying in the convent. It may be adapted to every vocation. In the times of great fear, lack of the feeling of safety and love, God through the life of St. Faustina reminded us about the truth of His indwelling in the human soul, about which St. John wrote in his Gospel, and called to stay with God in the depths of one's own existence.