The Knowledge of the Mystery of Divine Mercy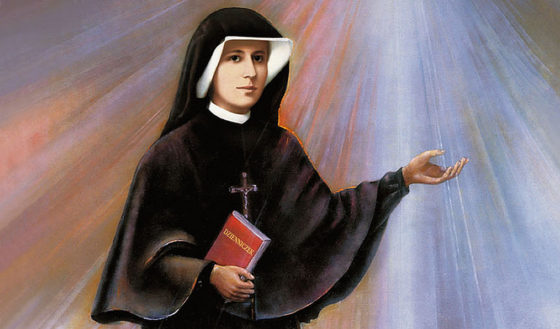 The first task in the school of St. Faustina's spirituality is coming to know God in the mystery of His Mercy. The Apostle of Divine Mercy did it first by very simple means, such as meditation of the Word of God, spiritual reading, listening to conferences, reflecting on the mysteries of the rosary and the stations of the way of the cross, participating in days of recollection and retreats, profoundly experiencing the holy sacraments, the solemnities of the Church throughout the liturgical year. Not only did she come to know the mystery of Divine Mercy on the ground of the Holy Scriptures, Liturgy of the Church…, but she also tried to perceive the signs of His love in her own life. In daily check of conscience she asked: what has God done for me today? Such knowing the mystery of Divine Mercy caused that the mystery of God's love was not abstract, something beautiful yet unattainable or out of reach; rather, it takes on concrete forms in the ordinary life of man.
In doing so, Sister Faustina saw that her entire life was immersed in the mercy of God. "Every day my soul – she wrote – bathes in the rays of Your mercy; I know of no moment in my life when I did not experience Your mercy, O God"  (Diary 697). It is like "the golden thread Your mercy is like a golden thread that passes through the whole of our lives and keeps our very existence in contact with God in the right way"  (Diary 1466). Sister Faustina realised very clearly that the knowledge of the mystery of Divine Mercy is not attained by one's own efforts alone but that the work of the human intellect must be strengthened by divine grace. Thus, she pleaded, "O Jesus, give me wisdom, give me a great mind enlightened by Your light, only that I might know You better, O Lord, for the better I know You the more ardently I'll love You" (Diary 1030; cf. Diary 1474).
Sister Faustina noticed also that it is possible to come to know God, not only by the intellect, but by the practise of love of neighbour, too. "I have observed and experienced – she ascertained in the Diary – that souls living by love are characterised by great enlightenment in the understanding of things pertaining to God, both those regarding their own souls as well as the souls of others. Simple, uneducated souls, too, are marked by great knowledge in this respect" (Diary 1191).
Such coming to know God in the life of Sister Faustina was strenghtened by the gift of acquired contemplation and through it she penetrated very deeply this mystery of our faith in order to let it know to the world. Through her records saved in the Diary we can know God better in the mystery of His merciful love towards man.